Ad blocker interference detected!
Wikia is a free-to-use site that makes money from advertising. We have a modified experience for viewers using ad blockers

Wikia is not accessible if you've made further modifications. Remove the custom ad blocker rule(s) and the page will load as expected.
X-linked recessive is a mode of inheritance in which a mutation in a gene on the X chromosome causes the phenotype to be expressed in males (who are necessarily hemizygous for the gene mutation because they have only one X chromosome) and in females who are homozygous for the gene mutation (i.e., they have a copy of the gene mutation on each of their two X chromosomes). X-linked inheritance means that the gene causing the trait or the disorder is located on the X chromosome. Females have two X chromosomes, while males have one X and one Y. Carrier females who have only one copy of the mutation do not usually express the phenotype, although differences in X-chromosome inactivation can lead to varying degrees of clinical expression in carrier females. Color blindness and Hemophilia A a re disorders that arise from this type of linkage.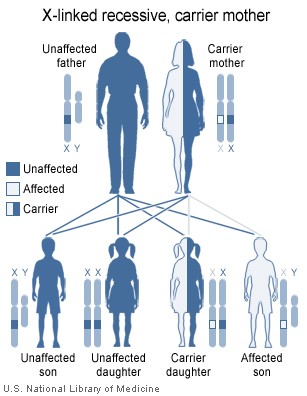 External links
Edit
Assessment | Biopsychology | Comparative | Cognitive | Developmental | Language | Individual differences | Personality | Philosophy | Social |
Methods | Statistics | Clinical | Educational | Industrial | Professional items | World psychology |
Biological: Behavioural genetics · Evolutionary psychology · Neuroanatomy · Neurochemistry · Neuroendocrinology · Neuroscience · Psychoneuroimmunology · Physiological Psychology · Psychopharmacology (Index, Outline)
---