Assessment | Biopsychology | Comparative | Cognitive | Developmental | Language | Individual differences | Personality | Philosophy | Social |
Methods | Statistics | Clinical | Educational | Industrial | Professional items | World psychology |
Biological: Behavioural genetics · Evolutionary psychology · Neuroanatomy · Neurochemistry · Neuroendocrinology · Neuroscience · Psychoneuroimmunology · Physiological Psychology · Psychopharmacology (Index, Outline)
---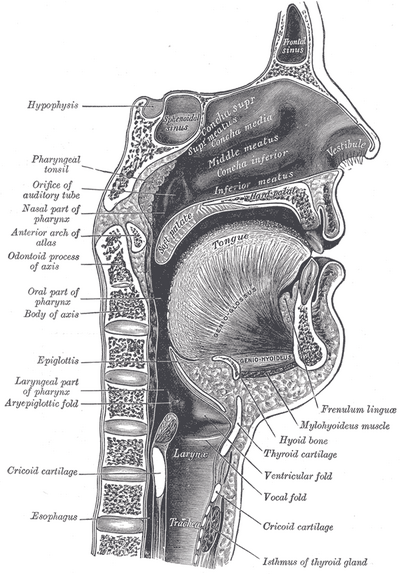 The vocal tract is that cavity in animals and humans, where sound that is produced at the sound source (larynx in mammals; syrinx in birds) is filtered. In birds it consists of the trachea, the syrinx, the oral cavity, the upper part of the esophagus, and the beak. In mammals it consists of the laryngeal cavity, the pharynx, the oral cavity, and the nasal cavity, and in some nonhuman mammals maybe also the airsacs.
de:Vokaltrakt
he:מערכת הקול
Ad blocker interference detected!
Wikia is a free-to-use site that makes money from advertising. We have a modified experience for viewers using ad blockers

Wikia is not accessible if you've made further modifications. Remove the custom ad blocker rule(s) and the page will load as expected.