Assessment | Biopsychology | Comparative | Cognitive | Developmental | Language | Individual differences | Personality | Philosophy | Social |
Methods | Statistics | Clinical | Educational | Industrial | Professional items | World psychology |
Biological: Behavioural genetics · Evolutionary psychology · Neuroanatomy · Neurochemistry · Neuroendocrinology · Neuroscience · Psychoneuroimmunology · Physiological Psychology · Psychopharmacology (Index, Outline)
---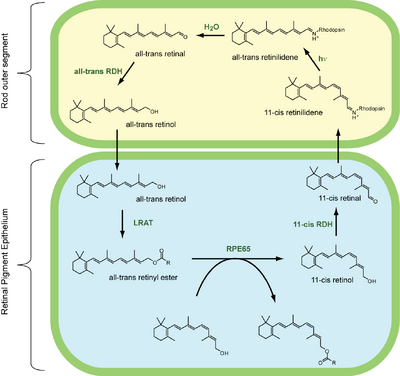 The visual cycle refers to the conversion of a photon into an action potential in the retina. This process occurs via G-protein coupled receptors called opsins which contain the chromophore 11-cis retinal. 11-cis retinal is covalently linked to the opsin receptor via a schiff base forming a retinylidene protein. When struck by a photon, 11-cis retinal undergoes photoisomerization to all-trans retinal which changes the conformation of the opsin GPCR leading to signal transduction cascades which ultimately causes an action potential which results in visual perception.
Following isomerization and release from the opsin protein, all-trans retinal is reduced to all-trans retinol and travels back to the retinal pigment epithelium to be "recharged". It is first esterified by lecithin-retinol acyltransferase (LRAT) and then converted to 11-cis retinol by the isomerohydrolase RPE65. Finally, it is oxidized to 11-cis retinal before traveling back to the rod outer segment where it can again be conjugated to an opsin to form a new, functional visual pigment (rhodopsin).
References
Edit
Moiseyev G, Chen Y, Takahashi Y, Wu BX, Ma JX. RPE65 is the isomerohydrolase in the retinoid visual cycle. Proc. Nat. Acad. Sci. 2005 Article.
Jin M, Li S, Moghrabi WN, Sun H, Travis GH. Rpe65 is the retinoid isomerase in bovine retinal pigment epithelium. Cell. 2005 Article.
Ad blocker interference detected!
Wikia is a free-to-use site that makes money from advertising. We have a modified experience for viewers using ad blockers

Wikia is not accessible if you've made further modifications. Remove the custom ad blocker rule(s) and the page will load as expected.