Assessment | Biopsychology | Comparative | Cognitive | Developmental | Language | Individual differences | Personality | Philosophy | Social |
Methods | Statistics | Clinical | Educational | Industrial | Professional items | World psychology |
Biological: Behavioural genetics · Evolutionary psychology · Neuroanatomy · Neurochemistry · Neuroendocrinology · Neuroscience · Psychoneuroimmunology · Physiological Psychology · Psychopharmacology (Index, Outline)
---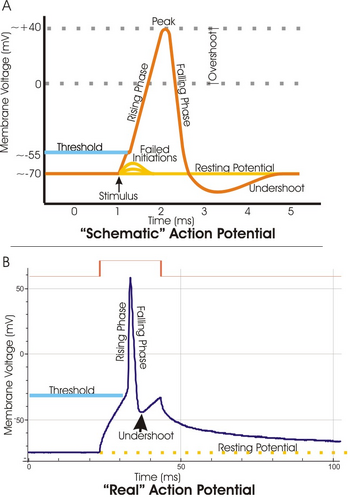 The threshold potential is the membrane potential to which a membrane must be depolarized to initiate an action potential.
It often can be between −40 and -55 mV, but it can vary based upon several factors. If ion channels are available, that will move the potential in the direction of the equilibrium potential for that ion:
Therefore, resting ion channel for sodium will depolarize and thus excite, while channels for potassium or chloride will hyperpolarize and thus inhibit.
External links
Edit
Ad blocker interference detected!
Wikia is a free-to-use site that makes money from advertising. We have a modified experience for viewers using ad blockers

Wikia is not accessible if you've made further modifications. Remove the custom ad blocker rule(s) and the page will load as expected.