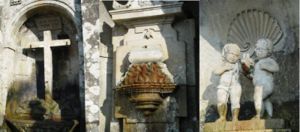 The three Theological Virtues listed in the Bible are:
They occur in the Bible at First Epistle to the Corinthians (1 Corinthians) 13:13:
"And now abideth faith, hope, and love, even these three: but the chiefest of these is love". (Geneva Bible, 1560).
The English word love for the third and greatest of the virtues, ἀγάπη (agapē), was used by all of the English translators of the Bible in the 16th Century, including Tyndale (1534), the Bishops' Bible (1568) and the Geneva Bible (1560). It is also used by almost all current translations of the Bible, including the New King James Version, the New American Standard Bible, and the New International Version.
The King James Version (1611) and the Challoner Douay Rheims Bible (1752) prefer the more theological term Charity for the same idea of specifically Christian love.
In Catholic theology, it is held that these virtues differ from the cardinal virtues in that they can not be obtained by human effort. A person can only receive them by their being "infused"—through Divine grace—into the person.
The Theological Virtues are so named because the object of these virtues is the divine being (theos). Other virtues have vice at their extremes, and are only virtues when they are maintained between these extremes. In the case of the Theological Virtues, they do not contribute to vice at the positive extreme; that is, there is no vice in having an unlimited amount of faith, hope, or love, when God is the object of that virtue.
Ad blocker interference detected!
Wikia is a free-to-use site that makes money from advertising. We have a modified experience for viewers using ad blockers

Wikia is not accessible if you've made further modifications. Remove the custom ad blocker rule(s) and the page will load as expected.