Ad blocker interference detected!
Wikia is a free-to-use site that makes money from advertising. We have a modified experience for viewers using ad blockers

Wikia is not accessible if you've made further modifications. Remove the custom ad blocker rule(s) and the page will load as expected.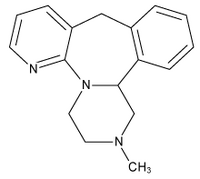 A tetracyclic antidepressant is an antidepressant drug from the tetracyclic drug group.
The name tetracyclic is derived from the drug's molecular structure which consists of four ring like structures (compare tricyclic antidepressant).
Maprotiline, trade named Ludiomil®, and Mirtazapine, trade named Remeron® in the USA, Zispin® in Europe and Avanza® in Australia, are the only two drugs from this group widely used for the treatment of clinical depression. The tetracyclic antidepressant Mianserin was previously available internationally, however in most markets it has been phased out in favor of Mirtazapine.
Research on other tetracyclic antidepressant compounds (for example setiptiline) have been reported in the scientific literature. These other tetracyclic antidepressants are not publicly available.
List of tetracyclic antidepressants
Edit
External links
Edit
Antidepressants (ATC N06A) edit
Monoamine oxidase inhibitors (MAOI)
Harmaline, Iproclozide, Iproniazid, Isocarboxazid, Nialamide, Phenelzine, Selegiline, Toloxatone, Tranylcypromine
Reversible inhibitor of monoamine oxidase A (RIMA)
Brofaromine, Moclobemide
Dopamine reuptake inhibitor (DARI)
Amineptine, Phenmetrazine, Vanoxerine, Modafinil
Norepinephrine-dopamine reuptake inhibitors
Bupropion
Norepinephrine reuptake inhibitor (NRI) or (NARI)
Atomoxetine, Maprotiline, Reboxetine, Viloxazine
Serotonin-norepinephrine reuptake inhibitor (SNRI)
Duloxetine, Milnacipran, Venlafaxine
Selective serotonin reuptake inhibitor (SSRI)
Alaproclate, Etoperidone, Citalopram, Escitalopram, Fluoxetine, Fluvoxamine, Paroxetine, Sertraline, Zimelidine
Selective serotonin reuptake enhancer (SSRE)
Tianeptine
Tricyclic antidepressants (TCA)
Amitriptyline, Amoxapine, Butriptyline, Clomipramine, Desipramine, Dibenzepin, Dothiepin, Doxepin, Imipramine, Iprindole, Lofepramine, Melitracen, Nortriptyline, Opipramol, Protriptyline, Trimipramine
Tetracyclic antidepressants
Maprotiline, Mianserin, Nefazodone, Trazodone
Noradrenergic and specific serotonergic antidepressant (NaSSA) Mirtazapine