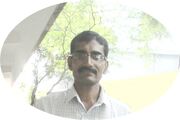 The basic theoretical frame work of Theory of Progressive Stages was presented in the Indian Science Congress Association session 1999 at Chennai (India).
This theory has been followed by G.S.Ramesh Kumar.
As he point out every thing can be brought on a continuum and every continuum is based on an 'essence'.
Request for introduction
Edit
Hi Ramesh. Thank you for your contribution. I was wondering if you could provide an introduction to the paper, to go before the method. Is your theory grounded in aspects of Indian Psychology? How does it fit in with modern cognitive theory, positive thinking etc I think it is best to treat your contribution as an original paper until we see how it fits into the overall structure of our professional knowledge. I look forwad to working on this with you. Dr Joe Kiff 17:51, November 26, 2011 (UTC)
Ad blocker interference detected!
Wikia is a free-to-use site that makes money from advertising. We have a modified experience for viewers using ad blockers

Wikia is not accessible if you've made further modifications. Remove the custom ad blocker rule(s) and the page will load as expected.