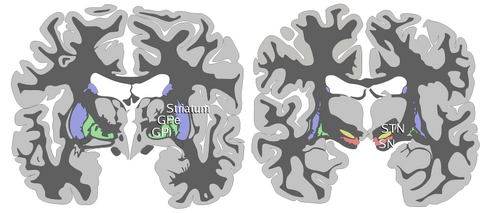 The subthalamic nucleus is a small lens-shaped nucleus of the basal ganglia. As the name suggests, the subthalmic nucleus (STN) is located ventral to the thalamus, just superior to the internal capsule. The subthalamic nucleus utilizes the excitatory neurotransmitter glutamate and forms a tight regulatory loop with the external segment of the globus pallidus (GPe) called the STN-GPe network.
Reciprocally connected regions of the subthalamic nucleus and the external segment of the globus pallidus project to similar regions of the internal segment of the globus pallidus and the substantia nigra (pars reticulata). This network is thought to play a key role in the generation of the patterns of activity seen in Parkinson's disease.
The basal ganglia are predominantly GABAergic (containing the neurotransmitter GABA). Although the dopaminergic (containing dopamine) cells of the substantia nigra are neuromodulatory, the subthalamic nucleus is the only excitatory nucleus of the basal ganglia. It is therefore called the 'driving force' of the basal ganglia.
Unilateral destruction of the subthalamic nucleus produces hemiballismus.
External links
Edit
Ad blocker interference detected!
Wikia is a free-to-use site that makes money from advertising. We have a modified experience for viewers using ad blockers

Wikia is not accessible if you've made further modifications. Remove the custom ad blocker rule(s) and the page will load as expected.