Assessment | Biopsychology | Comparative | Cognitive | Developmental | Language | Individual differences | Personality | Philosophy | Social |
Methods | Statistics | Clinical | Educational | Industrial | Professional items | World psychology |
Biological: Behavioural genetics · Evolutionary psychology · Neuroanatomy · Neurochemistry · Neuroendocrinology · Neuroscience · Psychoneuroimmunology · Physiological Psychology · Psychopharmacology (Index, Outline)
---
The spiral ganglion is the group of nerve cells that serve the sense of hearing by sending a representation of sound from the cochlea to the brain. The cell bodies of the spiral ganglion neurons are found in the spiral structure of the cochlea.
Development
Edit
The rudiment of the acoustic nerve appears about the end of the third week as a group of ganglion cells closely applied to the cephalic edge of the auditory vesicle. The ganglion gradually splits into two parts, the vestibular ganglion and the spiral ganglion. The proximal fibers of the spiral ganglion form the cochlear nerve.
Cells found in the spiral ganglion are strung along the bony core of the cochlea, and send projections into the central nervous system (CNS). These cells are bipolar first-order neurons of the auditory system. Their dendrites make synaptic contact with the base of hair cells, and their axons are bundled together to form the auditory portion of eighth cranial nerve. The number of neurons in the spiral ganglion is estimated to be about 35,000–50,000.[1]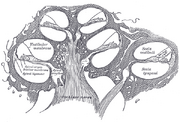 References
Edit
↑ Mark F. Bear, Barry W. Connors, and Michael A. Paradiso (2006). Neuroscience, Lippincott Williams & Wilkins.
External links
Edit

This article was originally based on an entry from a public domain edition of Gray's Anatomy. As such, some of the information contained herein may be outdated. Please edit the article if this is the case, and feel free to remove this notice when it is no longer relevant.
|}
Ad blocker interference detected!
Wikia is a free-to-use site that makes money from advertising. We have a modified experience for viewers using ad blockers

Wikia is not accessible if you've made further modifications. Remove the custom ad blocker rule(s) and the page will load as expected.