Assessment | Biopsychology | Comparative | Cognitive | Developmental | Language | Individual differences | Personality | Philosophy | Social |
Methods | Statistics | Clinical | Educational | Industrial | Professional items | World psychology |
Cognitive Psychology: Attention · Decision making · Learning · Judgement · Memory · Motivation · Perception · Reasoning · Thinking  - Cognitive processes Cognition - Outline Index
---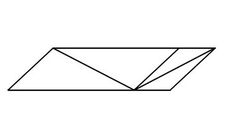 The Sander illusion or Sander's parallelogram is an optical illusion described by the German psychologist Friedrich Sander (1889-1971) in 1926. However, it had been published earlier by Matthew Luckiesh in his 1922 book Visual Illusions: Their Causes, Characteristics and Applications [1].
The diagonal line bisecting the larger, left-hand parallelogram appears to be considerably longer than the diagonal line bisecting the smaller, right-hand parallelogram, but is in fact the same length.
References
Edit
↑

Sander parallelogram n. (2006). A Dictionary of Psychology. Andrew M. Colman. Oxford University Press, 2006.