Ad blocker interference detected!
Wikia is a free-to-use site that makes money from advertising. We have a modified experience for viewers using ad blockers

Wikia is not accessible if you've made further modifications. Remove the custom ad blocker rule(s) and the page will load as expected.
Assessment | Biopsychology | Comparative | Cognitive | Developmental | Language | Individual differences | Personality | Philosophy | Social |
Methods | Statistics | Clinical | Educational | Industrial | Professional items | World psychology |
Biological: Behavioural genetics · Evolutionary psychology · Neuroanatomy · Neurochemistry · Neuroendocrinology · Neuroscience · Psychoneuroimmunology · Physiological Psychology · Psychopharmacology (Index, Outline)
---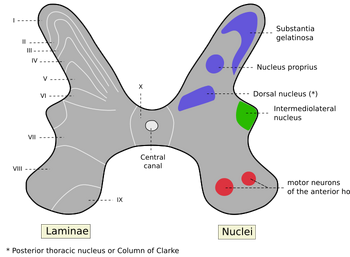 The Rexed laminae comprise a system of ten layers of grey matter (I-X), identified in the early 1950s by Bror Rexed to label portions of the spinal cord. [1][2]
Similar to Brodmann areas, they are defined by their cellular structure rather than by their location, but the location still remains reasonably consistent.
References
Edit
↑ Rexed B (1952). The cytoarchitectonic organization of the spinal cord in the cat.. J Comp Neurol 96 (3): 414-95.
↑ Rexed B (1954). A cytoarchitectonic atlas of the spinal cord in the cat.. J Comp Neurol 100 (2): 297-379.
External links
Edit