Ad blocker interference detected!
Wikia is a free-to-use site that makes money from advertising. We have a modified experience for viewers using ad blockers

Wikia is not accessible if you've made further modifications. Remove the custom ad blocker rule(s) and the page will load as expected.
Assessment | Biopsychology | Comparative | Cognitive | Developmental | Language | Individual differences | Personality | Philosophy | Social |
Methods | Statistics | Clinical | Educational | Industrial | Professional items | World psychology |
Clinical: Approaches · Group therapy · Techniques · Types of problem · Areas of specialism · Taxonomies · Therapeutic issues · Modes of delivery · Model translation project · Personal experiences ·
---
The
Pitié-Salpêtrière Hospital
is a hospital in Paris. Salpêtrière was originally a gunpowder factory ("Saltpeter" being a constituent of gunpowder), but was converted to a dumping ground for the poor of Paris. Eventually it served as a prison for prostitutes, and a holding place for the mentally disabled, criminally insane, epileptics, and the poor; it was also notable for its famous population of rats.
During the [French Revolutionary period, it was stormed by the mob and the prostitutes released, but others (probably madwomen) were less fortunate and were murdered.
One of its most famous professors, Jean-Martin Charcot, is often credited as the founder of modern neurology. His teaching activities on the Salpêtrière's wards helped to elucidate the natural history and pathophysiology of many human illnesses including neurosyphilis, epilepsy, and stroke.
La Salpêtrière is now a general teaching hospital with departments focusing on most major medical specialities.
Diana, Princess of Wales died in the Salpêtrière.[1]
Hospital Chapel
Edit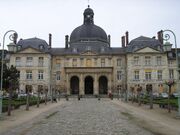 Chapelle de la Salpêtrière (Hospital Chapel), at n° 47 Boulevard de l'Hôpital is one of the masterpieces of Libéral Bruant, architect of les Invalides. It was built around 1675, on the model of a Greek cross and has 4 central chapels each capable of holding a congregation of some 1,000 people. It has a central octagonal cupola illuminated by picture windows in circular arcs.
References
Edit
External links
Edit
de:Hôpital Salpêtrière
fi:Salpêtrière
fr:Hôpital de la Salpêtrière
nl:Hôpital de la Salpêtrière
pl:Szpital Salpêtrière