Ad blocker interference detected!
Wikia is a free-to-use site that makes money from advertising. We have a modified experience for viewers using ad blockers

Wikia is not accessible if you've made further modifications. Remove the custom ad blocker rule(s) and the page will load as expected.
Assessment | Biopsychology | Comparative | Cognitive | Developmental | Language | Individual differences | Personality | Philosophy | Social |
Methods | Statistics | Clinical | Educational | Industrial | Professional items | World psychology |
Biological: Behavioural genetics · Evolutionary psychology · Neuroanatomy · Neurochemistry · Neuroendocrinology · Neuroscience · Psychoneuroimmunology · Physiological Psychology · Psychopharmacology (Index, Outline)
---
In animal development, organogenesis is the process by which the ectoderm, endoderm, and mesoderm develop into the internal organs of the organism. The germ layers in organogenesis differ by three processes: folds, splits, and condensation. Developing early during this stage in chordate animals are the neural tube and notochord. Vertebrate animals all differ from the gastrula the same way. Vertebrates develop a neural crest that differentiates into many structures, including some bones, muscles, and components of the peripheral nervous system. The coelom of the body forms from a split of the mesoderm along the somite axis.
Production
Edit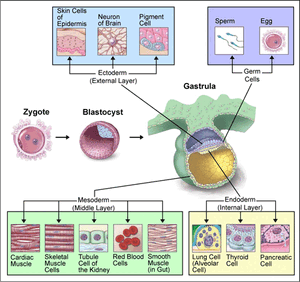 The proceeding graph represents the products produced by the three germ layers.
↑ The General category denotes that all or most of the animals containing this layer produce the adjacent product.
↑ The Vertebrate category denotes that all or most of the vertebrates containing this layer produce the adjacent product.
References
Edit
Evers, Christine A., Lisa Starr. Biology:Concepts and Applications. 6th ed. United States:Thomson, 2006. ISBN 0-534-46224-3.
de:Organogenese
es:Organogénesis sr:Органогенеза