Ad blocker interference detected!
Wikia is a free-to-use site that makes money from advertising. We have a modified experience for viewers using ad blockers

Wikia is not accessible if you've made further modifications. Remove the custom ad blocker rule(s) and the page will load as expected.
Assessment | Biopsychology | Comparative | Cognitive | Developmental | Language | Individual differences | Personality | Philosophy | Social |
Methods | Statistics | Clinical | Educational | Industrial | Professional items | World psychology |
Cognitive Psychology: Attention · Decision making · Learning · Judgement · Memory · Motivation · Perception · Reasoning · Thinking  - Cognitive processes Cognition - Outline Index
---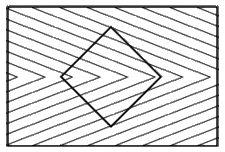 The Orbison illusion is an optical illusion that was first described by the psychologist William Orbison in 1939. The bounding rectangle and inner square both appear distorted in the presence of the radiating lines. The background gives us the impression there is some sort of perspective. As a result, our brain sees the shape distorted. This is a variant of the Hering and Wundt illusions.
External links
Edit