Assessment | Biopsychology | Comparative | Cognitive | Developmental | Language | Individual differences | Personality | Philosophy | Social |
Methods | Statistics | Clinical | Educational | Industrial | Professional items | World psychology |
Biological: Behavioural genetics · Evolutionary psychology · Neuroanatomy · Neurochemistry · Neuroendocrinology · Neuroscience · Psychoneuroimmunology · Physiological Psychology · Psychopharmacology (Index, Outline)
---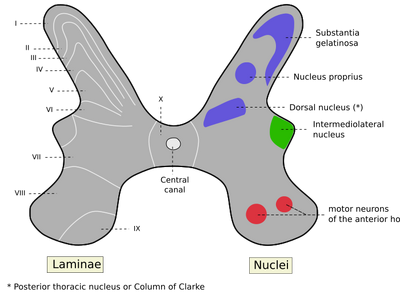 The Nucleus proprius is a layer of the spinal cord adjacent to the substantia gelatinosa. It receives non-noxious inputs from the periphery. Cells in this nucleus project to deeper laminae of the spinal cord, to the posterior column nuclei, and to other supraspinal relay centers including the midbrain, thalamus, and hypothalamus.
External links
Edit
Sławomirski J, Głuszak J (1986). Structure and topography of the nucleus proprius cornus dorsalis of the spinal cord of horses. Pol Arch Weter 25 (4): 131-6. PMID 3620378.
Ad blocker interference detected!
Wikia is a free-to-use site that makes money from advertising. We have a modified experience for viewers using ad blockers

Wikia is not accessible if you've made further modifications. Remove the custom ad blocker rule(s) and the page will load as expected.