Assessment | Biopsychology | Comparative | Cognitive | Developmental | Language | Individual differences | Personality | Philosophy | Social |
Methods | Statistics | Clinical | Educational | Industrial | Professional items | World psychology |
Biological: Behavioural genetics · Evolutionary psychology · Neuroanatomy · Neurochemistry · Neuroendocrinology · Neuroscience · Psychoneuroimmunology · Physiological Psychology · Psychopharmacology (Index, Outline)
---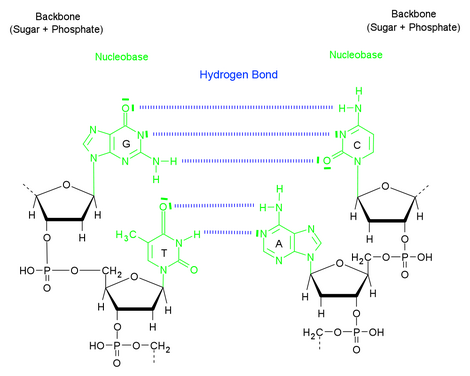 Nucleobases are the parts of RNA and DNA that may be involved in pairing (see also base pairs). These include cytosine, guanine, adenine, thymine (DNA), uracil (RNA) and xanthine and hypoxanthine (mutated forms of guanine and adenine, respectively). These are abbreviated as C, G, A, T, U, X and HX respectively. They are usually simply called bases in genetics. Because A, G, C and T appear in the DNA, these molecules are called DNA-bases; A, G, C and U are called RNA-bases, respectively.
Hypoxanthine and xanthine are created through mutagen presence, through deamination (replacement of the amine-group with a hydroxyl-group). Hypoxanthine is produced from adenine, xanthine from guanine and uracil from cytosine.
Uracil replaces thymine in RNA. These two bases are identical except that uracil lacks the 5' methyl group. Adenine and guanine belong to the double-ringed class of molecules called purines (abbreviated as R). Cytosine, thymine, and uracil are all pyrimidines (abbreviated as Y).
A base covalently bound to the 1' carbon of a ribose or deoxyribose is called a nucleoside, and a nucleoside with one or more phosphate groups attached at the 5' carbon is called a nucleotide.
Structure
The "skeleton" of adenine, guanin, hypoxanthine and xanthine is purine, hence the name purine-bases.
The "skeleton" of cytosine, uracil and thymine is pyrimidine, hence pyrimidine-bases.
Purines
Pyrimidines
See also
External links