Assessment | Biopsychology | Comparative | Cognitive | Developmental | Language | Individual differences | Personality | Philosophy | Social |
Methods | Statistics | Clinical | Educational | Industrial | Professional items | World psychology |
Biological: Behavioural genetics · Evolutionary psychology · Neuroanatomy · Neurochemistry · Neuroendocrinology · Neuroscience · Psychoneuroimmunology · Physiological Psychology · Psychopharmacology (Index, Outline)
---
The erection of the nipple is its enlarged and firm state. It depends on a complex interaction of psychological, neural, vascular and endocrine factors. The term is also applied to the process that leads to this state.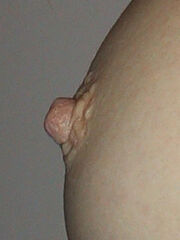 Nipple erection may result from basically three kinds of response. It happens in females during breast feeding. It is also an early part of the sexual response in females and males. Both of these are caused by the release of oxytocin. Nipple erection can also be caused by cold temperature in both male and female. This is merely due to tactile response to cold temperature rather than anything linked to sexual drive. The erection of nipples is not due to erectile tissue, but due to the contraction of smooth muscle under the control of the autonomic nervous system.
Ad blocker interference detected!
Wikia is a free-to-use site that makes money from advertising. We have a modified experience for viewers using ad blockers

Wikia is not accessible if you've made further modifications. Remove the custom ad blocker rule(s) and the page will load as expected.