Ad blocker interference detected!
Wikia is a free-to-use site that makes money from advertising. We have a modified experience for viewers using ad blockers

Wikia is not accessible if you've made further modifications. Remove the custom ad blocker rule(s) and the page will load as expected.
Assessment | Biopsychology | Comparative | Cognitive | Developmental | Language | Individual differences | Personality | Philosophy | Social |
Methods | Statistics | Clinical | Educational | Industrial | Professional items | World psychology |
Biological: Behavioural genetics · Evolutionary psychology · Neuroanatomy · Neurochemistry · Neuroendocrinology · Neuroscience · Psychoneuroimmunology · Physiological Psychology · Psychopharmacology (Index, Outline)
---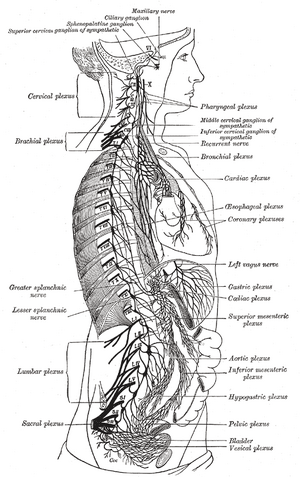 A nerve plexus is a network of intersecting nerves. They combine sets of spinal nerves that serve the same area of the body into one large grouped nerve. There are several in the body, including:
Since the Lumbar and Sacral plexus are interconnected, they are sometimes referred to as the Lumbosacral plexus. The nerves that serve the chest are the only ones that do not originate from a plexus.
External links
Edit
- Plexus disorders

fr:Plexus nerveux