Ad blocker interference detected!
Wikia is a free-to-use site that makes money from advertising. We have a modified experience for viewers using ad blockers

Wikia is not accessible if you've made further modifications. Remove the custom ad blocker rule(s) and the page will load as expected.
Assessment | Biopsychology | Comparative | Cognitive | Developmental | Language | Individual differences | Personality | Philosophy | Social |
Methods | Statistics | Clinical | Educational | Industrial | Professional items | World psychology |
Biological: Behavioural genetics · Evolutionary psychology · Neuroanatomy · Neurochemistry · Neuroendocrinology · Neuroscience · Psychoneuroimmunology · Physiological Psychology · Psychopharmacology (Index, Outline)
---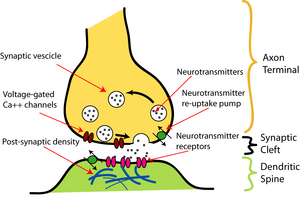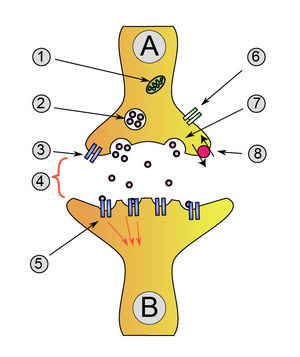 The N-type calcium channel is a type of voltage-dependent calcium channel. Like the others of this class, the α1 subunit is the one that determines most of the channel's properties.
N-type ('N' for neuron) calcium channels are found primarily at presynaptic terminals and are involved in neurotransmitter release. Strong depolarization by an action potential causes these channels to open and allow influx of Ca2+, initiating vesicle fusion and release of stored neurotransmitter. N-type channels are blocked by ω-conotoxin.
The analgesic drug ziconotide inhibits N-type channels.
External links
Edit
Membrane transport protein: ion channels
Ca
Voltage-dependent calcium channel (L-type/CACNA1C, N-type, P-type, Q-type, R-type, T-type) - Inositol triphosphate receptor - Ryanodine receptor - Cation channels of sperm
Na: Sodium channel
Nav1.4 - Nav1.5 - Nav1.7 - Epithelial sodium channel
K: Potassium channel
Voltage-gated (KvLQT1, KvLQT2, KvLQT3, HERG, Shaker gene, KCNE1) - Calcium-activated (BK channel, SK channel) - Inward-rectifier (ROMK, KCNJ2) - Tandem pore domain
Cl: Chloride channel
Cystic fibrosis transmembrane conductance regulator
Porin
Aquaporin (1, 2, 3, 4)
Transient receptor potential
TRPA - TRPC (TRPC6) - TRPM (TRPM6) - TRPML (Mucolipin-1) - TRPP - TRPV (TRPV1, TRPV6)
Other/general
Gap junction - Stretch-activated ion channel - Ligand-gated ion channel - Voltage-gated ion channel - Cyclic nucleotide-gated ion channel - Two-pore channel