Assessment | Biopsychology | Comparative | Cognitive | Developmental | Language | Individual differences | Personality | Philosophy | Social |
Methods | Statistics | Clinical | Educational | Industrial | Professional items | World psychology |
Biological: Behavioural genetics · Evolutionary psychology · Neuroanatomy · Neurochemistry · Neuroendocrinology · Neuroscience · Psychoneuroimmunology · Physiological Psychology · Psychopharmacology (Index, Outline)
---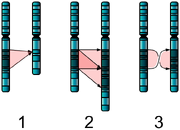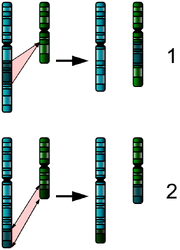 Chromosome disorders or chromosome abnormality reflects an abnormality of chromosome number or structure. Chromosome abnormalities usually occur when there is an error in cell division following meiosis or mitosis. There are many types of chromosome abnormalities. They can be organized into two basic groups, numerical and structural abnormalities.
Numerical abnormalities
Edit
Main article: Aneuploidy
When an individual is missing either a chromosome from a pair (monosomy) or has more than two chromosomes of a pair (trisomy). An example of a condition caused by numerical abnormalities is Down Syndrome, also known as Trisomy 21 (an individual with Down Syndrome has three copies of chromosome 21, rather than two). Turner Syndrome is an example of a monosomy where the individual is born with only one sex chromosome, an X.
Structural abnormalities
Edit
When the chromosome's structure is altered. This can take several forms:
Chromosome instability syndromes are a group of disorders characterized by chromosomal instability and breakage. They often lead to an increased tendency to develop certain types of malignancies.
Main clinical disorders
Edit
The gain or loss of chromosome material can lead to a variety of genetic disorders. Human examples include:
Inheritance
Edit
Most chromosome abnormalities occur as an accident in the egg or sperm, and are therefore not inherited. Therefore, the abnormality is present in every cell of the body. Some abnormalities, however, can happen after conception, resulting in mosaicism (where some cells have the abnormality and some do not). Chromosome abnormalities can be inherited from a parent or be "de novo". This is why chromosome studies are often performed on parents when a child is found to have an abnormality.
References
Edit
External links
Edit
Ad blocker interference detected!
Wikia is a free-to-use site that makes money from advertising. We have a modified experience for viewers using ad blockers

Wikia is not accessible if you've made further modifications. Remove the custom ad blocker rule(s) and the page will load as expected.