Assessment | Biopsychology | Comparative | Cognitive | Developmental | Language | Individual differences | Personality | Philosophy | Social |
Methods | Statistics | Clinical | Educational | Industrial | Professional items | World psychology |
Clinical: Approaches · Group therapy · Techniques · Types of problem · Areas of specialism · Taxonomies · Therapeutic issues · Modes of delivery · Model translation project · Personal experiences ·
---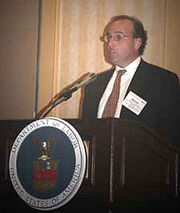 Dr. Michael R. Liebowitz is a Columbia University psychiatrist and founder of the Anxiety Disorders Clinic, the first of its kind, at the New York State Psychiatric Institute. In 1985, he researched and highlighted an underrecognized status of social anxiety disorder. This led to subsequent cognitive research and treatments for anxiety disorders.
The Liebowitz social anxiety scale is named after him.
Ad blocker interference detected!
Wikia is a free-to-use site that makes money from advertising. We have a modified experience for viewers using ad blockers

Wikia is not accessible if you've made further modifications. Remove the custom ad blocker rule(s) and the page will load as expected.