Assessment | Biopsychology | Comparative | Cognitive | Developmental | Language | Individual differences | Personality | Philosophy | Social |
Methods | Statistics | Clinical | Educational | Industrial | Professional items | World psychology |
Clinical: Approaches · Group therapy · Techniques · Types of problem · Areas of specialism · Taxonomies · Therapeutic issues · Modes of delivery · Model translation project · Personal experiences ·
---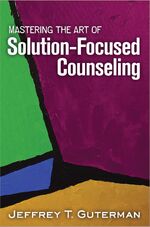 Mastering the Art of Solution-Focused Counseling is a 2006 book by mental health counselor, educator, and author Jeffrey Guterman that describes the theory and practice of solution-focused counseling. In the 1990s, Guterman developed a solution focused brief therapy model called solution-focused counseling. His model is an integration of solution-focused principles and techniques, postmodern theories, and a strategic approach to eclecticism.
Foreword by Allen E. Ivey
Preface
Acknowledgments
About the Author
Chapter 1 -- Introduction
Chapter 2 -- A Postmodern Perspective
Chapter 3 -- Problems and Change
Chapter 4 -- Before the First Session
Chapter 5 -- The First Session
Chapter 6 -- After the First Session
Chapter 7 -- Treating Depression
Chapter 8 -- Substance Problems
Chapter 9 -- Grief, Suicide, Trichotillomania, and Other Problems
Chapter 10 -- Jared's Complaint
Chapter 11 -- The Future of Solution-Focused Counseling
References
Index
External links
Edit
Ad blocker interference detected!
Wikia is a free-to-use site that makes money from advertising. We have a modified experience for viewers using ad blockers

Wikia is not accessible if you've made further modifications. Remove the custom ad blocker rule(s) and the page will load as expected.