Assessment | Biopsychology | Comparative | Cognitive | Developmental | Language | Individual differences | Personality | Philosophy | Social |
Methods | Statistics | Clinical | Educational | Industrial | Professional items | World psychology |
Clinical: Approaches · Group therapy · Techniques · Types of problem · Areas of specialism · Taxonomies · Therapeutic issues · Modes of delivery · Model translation project · Personal experiences ·
---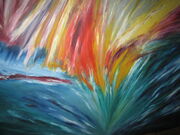 Mary Edith Barnes 9 February 1923 - 29 June 2001 suffered from schizophrenia but recovered to become a successful painter.
The website [1] describes her as:
Nurse, Madwoman, Explorer of the Underworld, Celebrant of Death and Rebirth Member of Kingsley Hall Community, Artist, Writer, Healer, Catholic mystic, Visionary
Biography
Edit
Mary Barnes entered Kingsley Hall, an experimental therapeutic community created by R.D. Laing, in 1965. and would later be described as "an ambassador for Laing" emerging from her journey to co-author a book about it with Joseph Berke, the resident psychiatrist who helped her.
She later became a respected artist, painting evocative works based on her experiences, and in 1979 a play was produced, with script by Barnes with David Edgar. In 1985, Mary Barnes moved to Scotland. Something Sacred her book of conversations, writings and paintings, was published in 1989. In 1993, she moved to Tomintoul. She died in 2001.
Publications
Edit
External links
Edit