Assessment | Biopsychology | Comparative | Cognitive | Developmental | Language | Individual differences | Personality | Philosophy | Social |
Methods | Statistics | Clinical | Educational | Industrial | Professional items | World psychology |
Professional Psychology: Debating Chamber · Psychology Journals · Psychologists
---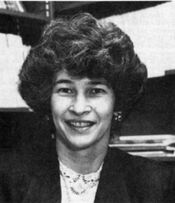 Linda Susanne Gottfredson (born 24 June 1947) is a professor of educational psychology at the University of Delaware and co-director of the Delaware-Johns Hopkins Project for the Study of Intelligence and Society. Gottfredson's work has been influential in shaping U.S. public and private policies regarding affirmative action, hiring quotas, and "race-norming" on aptitude tests.
She currently sits on the boards of the International Society for the Study of Individual Differences (ISSID), the International Society for Intelligence Research (ISIR), and the editorial boards of the scientific journals Intelligence, Learning and Individual Differences, and Society.
Life and work
Edit
Born in San Francisco, she and her first husband Gary Don Gottfredson received bachelor's degrees in psychology in 1969 from University of California, Berkeley, then worked in the Peace Corps in Malaysia until 1972. She also taught in disadvantaged schools for a time when she was young. [1] They both then went to graduate school at Johns Hopkins University, where she received a Ph.D. in sociology in 1977.
Gottfredson then took a position at Hopkins' Center for Social Organization of Schools and investigated issues of occupational segregation and typology based on skill sets and intellectual capacity. She married at one point Robert A. Gordon, who works in a related area at Hopkins, and they divorced by the mid-90s.[2]
In 1985, Gottfredson participated in a conference called "The g Factor in Employment Testing." The papers presented were later published in the December 1986 issue of the Journal of Vocational Behavior, edited by Gottfredson. In 1986, Gottfredson was appointed Associate Professor of Educational Studies at the University of Delaware, Newark. That year, she presented a series of papers on general intelligence factor and employment.
In 1988 Gottfredson received the first of many grants from the Pioneer Fund for work on educational differences and occupational policy. In 1989, University of Delaware's promotion and tenure committee denied Gottfredson promotion to full professor, citing "flawed" and "unscholarly" research. She was promoted to full professor the next year.
Gottfredson's research and views have stirred considerable controversy, especially her testimony on public affirmative action policy and her defense of The Bell Curve, especially "Mainstream Science on Intelligence," an editorial written by her, signed by 52 colleagues, and published in the Wall Street Journal. Since that time she has written a number of articles on race and intelligence, especially as it applies to occupational qualification.
Professional service
Edit
Board of Directors, International Society for the Study of Individual Differences, 2005-present.
Editorial Board, Learning and Individual Differences, 2004-present.
Editorial Board, Intelligence, 2004-present.
Advisory Board, International Society for Intelligence Research, 2000-present (Founding Member).
Board of Editorial Advisors, Society, 1997-present.
Editorial Board, The Psychologist-Manager, 1997-2000.
National Council, Federation of American Scientists, 1995-1999.
Testimony before the House Judiciary Committee, Subcommittee on the Constitution, Oversight hearing on the Civil Rights Division of the Department of Justice, Washington, DC, May 20, 1997.
Board of Directors, Society of Psychologists in Management, 1994-1997.
Board of Directors, Society for the Study of Social Biology, 1990-1994.
Editorial Board, Journal of Vocational Behavior, 1983-1990.
Consultant, Department of Labor (DOT revision [APDOT, contract to American Psychological Association], implementation of "Goals 2000" [contract to Institute for Educational Leadership]), 1992-1995.
Consultant, Department of Defense Student Testing Program contract awarded to Booz-Allen, Inc. 1989-1991.
Panel member, Advisory Panel on the Identification of Alternative Approaches for reporting Armed Services Vocational Aptitude Battery (ASVAB) scores. U.S. Manpower Entrance Processing Command, San Antonio, TX, November, 1987.
Consultant, U.S. Commission on Civil Rights, 1987-1989.
Mensa Press Award, 2005.
Mensa Award for Excellence in Research, 2005.
Faculty Senate Commendation for Extraordinary Leadership and Service, University of Delaware, awarded May 2, 2005.
Mensa Research Foundation Award for Excellence in Research, 1999-2000.
Fellow, Association for Psychological Science, elected 1998.
Johns Hopkins University Society of Scholars, elected 1995.
Fellow, American Psychological Association, elected 1994.
Fellow, Society for Industrial and Organizational Psychology, elected 1994.
Selected articles
Edit
References
Edit
External links
Edit
Ad blocker interference detected!
Wikia is a free-to-use site that makes money from advertising. We have a modified experience for viewers using ad blockers

Wikia is not accessible if you've made further modifications. Remove the custom ad blocker rule(s) and the page will load as expected.