Assessment | Biopsychology | Comparative | Cognitive | Developmental | Language | Individual differences | Personality | Philosophy | Social |
Methods | Statistics | Clinical | Educational | Industrial | Professional items | World psychology |
Clinical: Approaches · Group therapy · Techniques · Types of problem · Areas of specialism · Taxonomies · Therapeutic issues · Modes of delivery · Model translation project · Personal experiences ·
---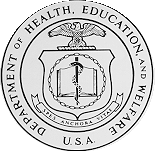 The United States Department of Health, Education and Welfare (also known as HEW) was a cabinet-level department of the United States government from 1953 until 1979. It was administered by the United States Secretary of Health, Education, and Welfare. In 1979, a separate Department of Education (ED) was created from this department, and HEW was renamed as the Department of Health and Human Services (HHS).
To date, this was the only department of the U.S. government to be created through presidential reorganization authority, in which the president is allowed to create or reorganize bureaucracies as long as neither house of Congress passed a legislative veto. This power to create new departments was removed after 1962, but in the early 1980s the Supreme Court declared legislative vetoes unconstitutional.
Ad blocker interference detected!
Wikia is a free-to-use site that makes money from advertising. We have a modified experience for viewers using ad blockers

Wikia is not accessible if you've made further modifications. Remove the custom ad blocker rule(s) and the page will load as expected.