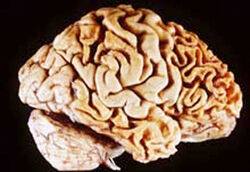 Frontotemporal lobar degeneration (FTLD) is a form of dementia. In the over 65 age group it is probably the fourth most common type of dementia after Alzheimer's disease, dementia with Lewy bodies and vascular dementia. In the below 65 age group it is the second most common cause after Alzheimer's disease.
There are three clinical variants of FTLD:
There are a number of possible pathological findings at post-mortem:
Assessment | Biopsychology | Comparative | Cognitive | Developmental | Language | Individual differences | Personality | Philosophy | Social |
Methods | Statistics | Clinical | Educational | Industrial | Professional items | World psychology |
Biological: Behavioural genetics · Evolutionary psychology · Neuroanatomy · Neurochemistry · Neuroendocrinology · Neuroscience · Psychoneuroimmunology · Physiological Psychology · Psychopharmacology (Index, Outline)
---
References
Edit
Ad blocker interference detected!
Wikia is a free-to-use site that makes money from advertising. We have a modified experience for viewers using ad blockers

Wikia is not accessible if you've made further modifications. Remove the custom ad blocker rule(s) and the page will load as expected.