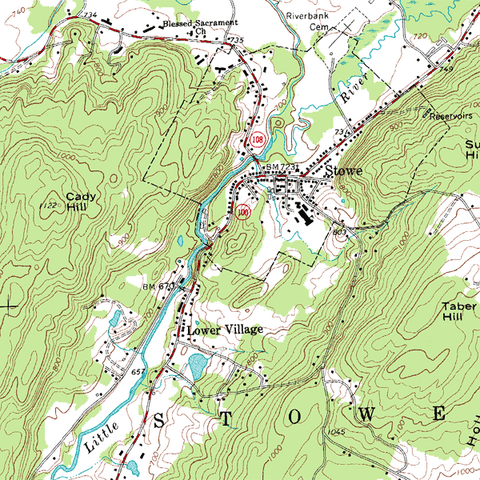 Full resolution
‎
(600 × 600 pixels, file size: 152 KB, MIME type: image/png)
La bildo estas kopiita de wikipedia:en. La originala priskribo estas:
English description
Edit
An inset from the USGS topographic map of Stowe, Vermont, USA, featuring 20-foot contour intervals. The scale is 1:24,000.
Hebrew description
Edit
מפה טופוגרפית באדיבות USGS.
במפה בולטים קוי הגובה (בצבע אדמדם) הנותנים תמונה תלת מימדית למי שיודע לפענח אותם. בהפרש של כל מאה מטרים, קו הגובה בולט ולידו כתוב מספרו. מצד שמאל ניתן לראות את גבעת קאדי שגובה פסגתה הוא 1122 מטר. במרכז המפה אפשר לראות נחל (בתכלת) שעובר בגיא, מכיוון צפון-מזרח לדרום-מערב. במרכז הגיא יש מאגר מים המסומן בתכלת. כמו כן ניתן לראות במפה רשת של כבישים (קו אדום לבן), ולידם בתים (קוביות שחורות). עוד במפה שבילים העולים אל הגבעות. (קוים שחורים מקווקוים).
Source and copyrights
Edit
Source: Sample taken from the public domain USGS Digital Raster Graphic file o44072d6.tif for the Stowe, VT quadrangle
date/time
username
edit summary
23:13, 12 December 2005
----
21:19, 3 October 2004
----
06:20, 4 June 2004
----
14:34, 12 May 2004
----
14:23, 12 May 2004
}

Historio de la dosiero

Edit

Legend: (cur) = this is the current file, (del) = delete this old version, (rev) = revert to this old version.

Click on date to download the file or see the image uploaded on that date.

(del) (cur) 11:23, 30 September 2005 . . * (del) (rev) 14:23, 12 May 2004 . .
File history
Click on a date/time to view the file as it appeared at that time.
Date/Time
Thumbnail
Dimensions
User
Comment
current
15:19, November 4, 2007
600 × 600

(152 KB)

PhloxBot (Talk | contribs)
La bildo estas kopiita de wikipedia:en. La originala priskribo estas: == English description == An inset from the USGS topographic map of Stowe, Vermont, USA, featuring 20-foot contour intervals. The scale is 1:24,000. == Hebrew description == <div styl