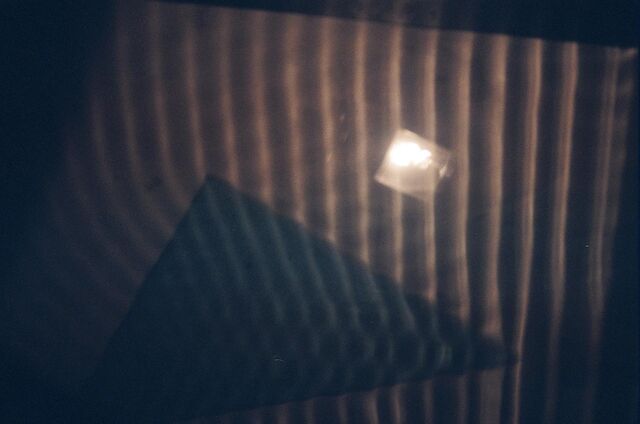 Photographer: Armedblowfish
License: BSD
Date taken: 2006, sometime during or around May
Camera: Film, Nikon N65
Lens: Nikon 28-80 mm f/3.3-5.6G AF Zoom-Nikkor
Film: Color, 800-speed
Digitized by: CVS pharmacy
Description: A blue plastic triangle was placed in a circular ripple tank, creating a difference in depth, resulting in refraction. Beneath the ripple tank was a sheet of white paper, where the wave patterns appeared due to a light source above the ripple tank.
Copyright © Armedblowfish, all rights reserved. Redistribution and use in source and binary forms, with or without modification, are permitted provided that the following conditions are met:

Redistributions of source code must retain the above copyright notice, and this list of conditions;
Redistributions in binary form must reproduce the above copyright notice, and this list of conditions in the documentation and/or other materials provided with the distribution;
Neither the name of Armedblowfish nor the names of its contributors may be used to endorse or promote products derived from this software without specific prior written permission.

---

Česky | Deutsch | English | Español | فارسی | Français | Italiano | 日本語 | Nederlands | Polski | Português | Русский | Svenska | Türkçe | 简体中文 | 正體中文 | edit



Appears on these pages

of
Assessment| Biopsychology| Comparative| Cognitive| Developmental| Language| Individual...
File history
Click on a date/time to view the file as it appeared at that time.
Metadata
Ad blocker interference detected!
Wikia is a free-to-use site that makes money from advertising. We have a modified experience for viewers using ad blockers

Wikia is not accessible if you've made further modifications. Remove the custom ad blocker rule(s) and the page will load as expected.