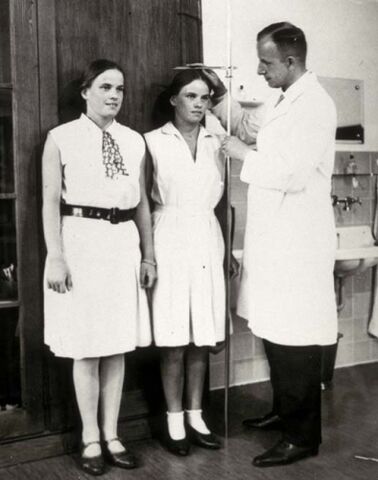 Photograph of Otmar von Verschuer measuring two twins as part of his research into heredity and eugenics. Date is circa 1920s-1940s.
Copyright information: Taken from: Eugenics Archive. Listed there as: 2274: 16-year-old female twins undergoing anthropometric study by Otmar Freiherr von Verschuer / Date: Circa nd / Source: Kaiser Wilhelm Institute, Neg.-Nr. Q16-8-19-1, 'Bild-Nr 16' / Archiv zur Geschichte der Max-Planck-Gesellschaft, Berlin-Dahlem.
The above apparent copyright holder declares this image free for "noncommercial, educational use only." However because the image is illustrating an important historical biographical article, because there are no known freer images available, because the image is no larger than it needs to be for web use, and because we have tried in a good faith manner to provide the original copyright information above so that those who wish to use this image in the future may locate it for licensing, I am going to assert that its use for the article on Otmar von Verschuer on the non-profit, U.S.-based English Wikipedia, falls under the "fair use" provisions of U.S. copyright law. Such criteria may not apply in other uses of this image, even in other pages on this same encyclopedia.
.
Appears on these pages

of
Assessment| Biopsychology| Comparative| Cognitive| Developmental| Language| Individual...
File history
Click on a date/time to view the file as it appeared at that time.
Ad blocker interference detected!
Wikia is a free-to-use site that makes money from advertising. We have a modified experience for viewers using ad blockers

Wikia is not accessible if you've made further modifications. Remove the custom ad blocker rule(s) and the page will load as expected.