Full resolution
‎
(749 × 693 pixels, file size: 286 KB, MIME type: image/jpeg)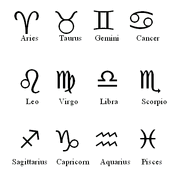 This is a natal chart (Horoscope) calculated precisely for:
Tropical Zodiac -- European Style Wheel -- Topocentric House System -- Mean Nodes -- Day/Night Part of Fortune -- Equatorial Ascendant (Eq)
Please notice the three main factors of any astrological chart (the Sun, Moon, and Ascendant) -- in this particular chart, the Sun is in Cancer, the Moon is also in Cancer because there was a New Moon/partial Solar Eclipse on this particular date, and Aquarius is the Ascendant (As, or Asc), which is also called the Rising Sign. The Ascendant is, of course, not a planet or celestial body but an angle; more precisely, the Rising Sign is and can only be one of the twelve zodiacal signs that was rising over the Eastern horizon at the exact moment that the chart is calculated for which is usually, but not always, an individual's birth. The Midheaven (Mc) is located in Scorpio and this is the other primary angle found in the astrological chart.
In every astrological chart all of the other planets (the Sun and Moon are often referred to as "the Lights" in astrology) are also located in one and only one of the twelve astrological signs, and these planets are said to hold meaning for the individual just as the Sun, Moon, and Ascendant do in the astrological chart, though their meanings are usually not considered as personally important as the much more personal Sun, Moon, and Ascendant. In chart interpretation and synthesis, just as with the Sun and Moon, their various meanings are believed to be further modified depending on what astrological house they reside in and also depending on what other planets they aspect. Some astrologers do not pay attention to the supposed meaning of the planets in the astrological signs or houses, relying entirely on the astrological aspects, midpoints, and the four primary angles of the chart. (see Cosmobiology, Uranian astrology, and the Hamburg School of Astrology)
It is important to again note that the Tropical Zodiac (see above) is used in this and the vast majority of natal charts in Western astrology, while astronomers and certain other astrologers use the Sidereal Zodiac.
For the sake of a beginner trying to decipher this chart, by following the keys on the right of this page one can see that the:
Ascendant is in the sign of Aquarius
Sun, in Cancer
Moon, also in Cancer
Mercury, in Gemini
Venus, in Taurus
Mars, in Libra
Jupiter, in Scorpio
Saturn, in Libra
Uranus, in Sagittarius
Neptune, also in Sagittarius
Pluto, in Libra
Appears on these pages

of
Assessment | Biopsychology | Comparative | Cognitive | Developmental | Language | Individual...
See full list >
File history
Click on a date/time to view the file as it appeared at that time.
Metadata