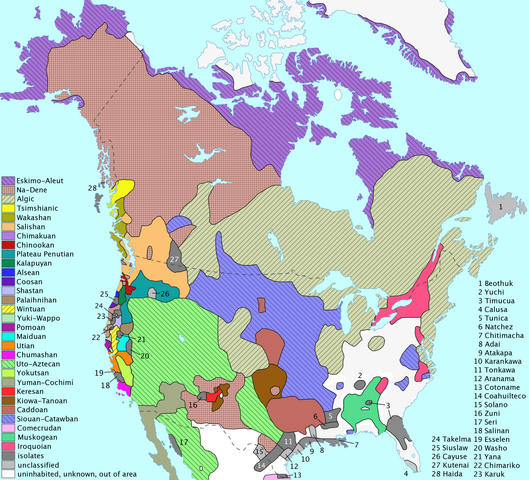 All images in this article should be recreated using vector graphics as an SVG file. This has several advantages; see Commons:Images for cleanup for more information. If an SVG form of this image is already available, please upload it. After uploading an SVG, replace this template with template {{SupersededSVG|new image name.svg}} in this image.

---
distribution of North American language families north of Mexico
created by * released under CC-by-2.0
about sources
Edit
Map redrawn and modified primary based on two maps by cartographer Roberta Bloom appearing in Mithun (1999:xviii-xxi). Incidentally, these maps are very derivative of the Driver map of the 1950s-60s (which means that, although published in 1999, it is not as up-to-date as one might think). The other main source used is the up-to-date and very well-done map found in Goddard (1996), which was revised as Goddard (1999). Essentially, Bloom's map was used for the projection and general outline of language borders while Goddard's maps were used to adjust Bloom's borders to reflect the more recent research.
Additional references include Sturtevant (1978-present), Mithun (1999:606-616), and Campbell (1997:353-376). Mithun and Campbell have several maps based on the maps found in Sturtevant (1978-present) and Bright (1992).
about map content
Edit
Map delineates each * * * Areas in white are either

uninhabited (in Alaska, Canda, Greenland),
unknown (due to early extinction and little or no data; this is mostly in the East), or
outside of subject area (in Mexico). (note that * This is a historical map: Although most languages are still spoken in North America, the extent of their distribution has been profoundly affected by European contact — many languages have become extinct (sometimes including even the peoples). (See * Language areas are those at earliest time of European contact, as far as can be determined. Since contact occurred at different times in different areas, no historical Native American maps of the entire continent are of a single time period.

Language areas are not as well-defined as this map would suggest: borders are often fuzzy and arbitrary and the entire language area may not be fully occupied by language speakers.
* The following groupings are disputed by some (or are considered not fully demonstrated):

*# Yuki-Wappo =
translation into Spanish & other languages
extend Mexico coverage (for
You might want to compare this map with these two older (1967) maps of only the USA:
There is also an Inuktitut dialect map in Wikipedia:
Be sure to check out the beautiful work of Mutur Zikin (www.muturzikin.com):
Looking for more maps of South America? Go here:
A (older) map of Mexico (provided by the University of Texas):
Some pages in Wikipedia:
Some other sites on American languages (in English):
You might also be interesting in
other maps in this series
Edit
These other maps of single families are generated from the main map above.
bibliography
Edit
Bright, William (Ed.). (1992). International encyclopedia of linguistics (Vols. 1-4). New York: Oxford University Press.
Campbell, Lyle. (1997). American Indian languages: The historical linguistics of Native America. New York: Oxford University Press. ISBN 0-19-509427-1.
Driver, Harold E. (1969). Indians of North America (2nd rev. ed.). Chicago: Chicago University Press. (Original work 1961).
Goddard, Ives. (1996). Native languages and language families of North America [Map]. In I. Goddard (Ed.), Handbook of North American Indians: Languages (Vol. 17). (W. C. Sturtevant, General Ed.) Washington, D. C.: Smithsonian Institution. ISBN 0-1604-8774-9.
Goddard, Ives. (1999). Native languages and language families of North America (rev. and enlarged ed. with additions and corrections). [Map]. Lincoln, NE: University of Nebraska Press (Smithsonian Institute). (Updated version of the map in Goddard 1996). ISBN 0-8032-9271-6.
Krauss, Michael. (1982). Native peoples and languages of Alaska (rev. ed.). [Map]. Fairbanks, AK: Alaska Native Language Center. ISBN 0-933769-00-8.
Mithun, Marianne. (1999). The languages of Native North America. Cambridge: Cambridge University Press. ISBN 0-521-23228-7 (hbk); ISBN 0-521-29875-X.
Powell, John W. (1891). Indian linguistic families of America north of Mexico. Seventh annual report, Bureau of American Ethnology (pp. 1-142). Washington, D.C.: Government Printing Office. (Reprinted in P. Holder (Ed.), 1966, Introduction to Handbook of American Indian languages by Franz Boas and Indian linguistic families of America, north of Mexico, by J. W. Powell, Lincoln: University of Nebraska).
Sebeok, Thomas Albert (Ed.). (1973). Current trends in linguistics: Linguistics in North America (Vol. 10, Pts. 1-2). The Hague: Mouton.
Sturtevant, William C. (Ed.). (1978-present). Handbook of North American Indians (Vols. 1-20). Washington, D. C.: Smithsonian Institution. (Vols. 1-3, 16, 18-20 not yet published).
thank yous
Edit
Thanks goes to
* * User:Vlad2i for kindly providing the Français translation
* *
Appears on these pages

of
Assessment | Biopsychology | Comparative | Cognitive | Developmental | Language | Individual...

Assessment| Biopsychology| Comparative| Cognitive| Developmental| Language| Individual...

distribution of North American language families north of Mexico Deutsch (German...
File history
Click on a date/time to view the file as it appeared at that time.
Ad blocker interference detected!
Wikia is a free-to-use site that makes money from advertising. We have a modified experience for viewers using ad blockers

Wikia is not accessible if you've made further modifications. Remove the custom ad blocker rule(s) and the page will load as expected.