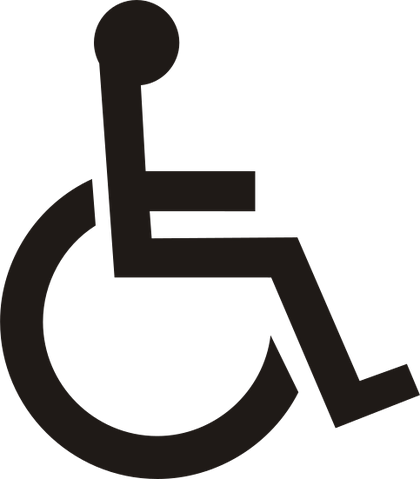 Reversed version of Image:Handicap.svg. As a derivative of that work, same license applies.
Licensing
Edit
class="boilerplate" id="pd"
This file is in the public domain because it comes from the US FHWA Manual on Uniform Traffic Control Devices, sign number RM-080 and page 6-31 of the appendix, which states specifically on page I-1 that:

Any traffic control device design or application provision contained in this Manual shall be considered to be in the public domain. Traffic control devices contained in this Manual shall not be protected by a patent, trademark, or copyright, except for the Interstate Shield and any other items owned by FHWA.

In addition,

This work is in the public domain in the United States because it is a work of the United States Federal Government under the terms of Title 17, Chapter 1, Section 105 of the US Code. See Copyright.

Note: This only applies to works of the Federal Government and not to the work of any individual U.S. state, territory, commonwealth, county, municipality, or any other subdivision. (See 206.02(b) of Compendium II: Copyright Office Practices).

---



File history
Click on a date/time to view the file as it appeared at that time.
Metadata
Ad blocker interference detected!
Wikia is a free-to-use site that makes money from advertising. We have a modified experience for viewers using ad blockers

Wikia is not accessible if you've made further modifications. Remove the custom ad blocker rule(s) and the page will load as expected.