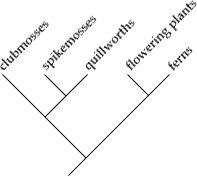 No higher resolution available.
La bildo estas kopiita de wikipedia:en. La originala priskribo estas:
Typical example of a vertically oriented cladogram, with diagonal intersecting lines indicating relationships.
Created 15 June 2003 by Geoffrey Adams, for Wikipedia.
date/time
username
edit summary
19:44, 23 December 2004
----
00:11, 16 June 2003
----
00:10, 16 June 2003
}

Historio de la dosiero

Edit

Legend: (cur) = this is the current file, (del) = delete this old version, (rev) = revert to this old version.

Click on date to download the file or see the image uploaded on that date.

(del) (cur) 00:10, 16 June 2003 . .

en:Image:Cladogram-example2.png
File history
Click on a date/time to view the file as it appeared at that time.
Ad blocker interference detected!
Wikia is a free-to-use site that makes money from advertising. We have a modified experience for viewers using ad blockers

Wikia is not accessible if you've made further modifications. Remove the custom ad blocker rule(s) and the page will load as expected.