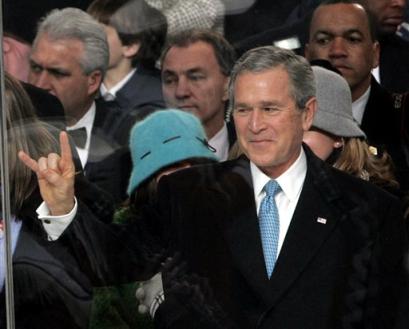 No higher resolution available.
George W. Bush gives the Hook 'em Horns gesture to salute the University of Texas at Austin marching band at his second inauguration.
This work is in the public domain in the United States because it is a work of the United States Federal Government under the terms of Title 17, Chapter 1, Section 105 of the US Code. See Copyright.

Note: This only applies to works of the Federal Government and not to the work of any individual U.S. state, territory, commonwealth, county, municipality, or any other subdivision. (See 206.02(b) of Compendium II: Copyright Office Practices).

---

After this many Norwegians believed Bush was a Satanist as this sign was misinterpereted. In Norway this is the sign of Satan, often used by heavy metal bands. From Yahoo News Page: Sunday January 23, 10:37 AM "President Bush's "Hook 'em, 'horns" salute got lost in translation in Norway, where shocked people interpreted his hand gesture during his inauguration as a salute to Satan.
That's what it means in the Nordics when you throw up the right hand with the index and pinky fingers raised, a gesture popular among heavy metal groups and their fans in the region.
"Shock greeting from Bush daughter," a headline in the Norwegian Internet newspaper Nettavisen said above a photograph of Bush's daughter Jenna, smiling and showing the sign.
For Texans, the gesture is a sign of love for the University of Texas Longhorns, whose fans are known to shout out "Hook 'em, 'horns!" at sporting events.
Bush, a former Texas governor, and his family made the sign to greet the Longhorn marching band as it passed during the inaugural parade through Washington during Thursday's festivities, explained Verdens Gang, Norway's largest newspaper."
Appears on these pages

of
Assessment | Biopsychology | Comparative | Cognitive | Developmental | Language | Individual...

Assessment | Biopsychology | Comparative | Cognitive | Developmental | Language | Individual...
File history
Click on a date/time to view the file as it appeared at that time.
Ad blocker interference detected!
Wikia is a free-to-use site that makes money from advertising. We have a modified experience for viewers using ad blockers

Wikia is not accessible if you've made further modifications. Remove the custom ad blocker rule(s) and the page will load as expected.