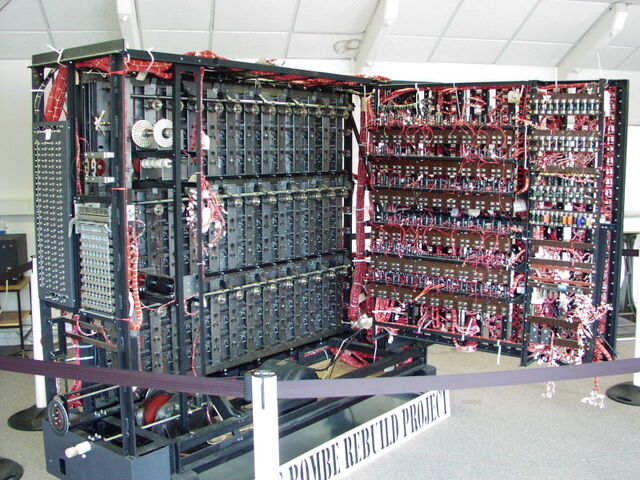 A rebuild of a British Bombe located at Bletchley Park museum.
Photographer: User:Tom Yates [1]. Author agreed to license image under the terms of the GFDL after an email exchange with User:Matt Crypto.
Bombe rebuild project
Edit
Volunteers at the Bombe Rebuild Project are working to build a Turing Bombe from scratch, based on original diagrams. See also the people involved and the sponsors. If you reuse this image, the rebuild project asks that you add an acknowledgement for their hard work — this is not, however, a legal obligation: the photograph above is available under the terms of the GNU Free Documentation License.
Digitally signed declaration for licensing
Edit


-----BEGIN PGP SIGNED MESSAGE-----
Hash: SHA1

i license the photos with the following sha1sums:
8ba64b6e669db314d662c62b63ec33bef10a6f16  p5120012.jpg
63407ea1500c8d635a7b28046276107f7e55ee4c  p5120015.jpg
7f03bb6774fef95d58811ecbe5a215c2fc7b4e23  p5120018.jpg
219274644fb6ce89029c68811cad9813fea3e755  p5120021.jpg

reference copies of which can currently be found at:
http://php.teaparty.net/gallery/bp2004/p5120012?full=1
http://php.teaparty.net/gallery/bp2004/p5120015?full=1
http://php.teaparty.net/gallery/bp2004/p5120018?full=1
http://php.teaparty.net/gallery/bp2004/p5120021?full=1

nonexclusively, to you and the world, under the terms of the GFDL, version
1.2 or at your discretion any later version published by the Free Software
Foundation, with no invariant sections nor front nor back matter.

i certify that rights in these photos are mine to assign.

Tom Yates (madhatter@teaparty.net)

-----BEGIN PGP SIGNATURE-----
Version: GnuPG v1.2.4 (GNU/Linux)

iD8DBQFB47dJePtvKV31zw4RArX7AJ98D3JGDQe1jBWdowGXcjwiB805iwCdFy2h
oMtQy77Qlb1YWsthnv1Ps/I=
=8yJJ
-----END PGP SIGNATURE-----


Appears on these pages

of
Assessment | Biopsychology | Comparative | Cognitive | Developmental | Language | Individual...
File history
Click on a date/time to view the file as it appeared at that time.
Metadata
Ad blocker interference detected!
Wikia is a free-to-use site that makes money from advertising. We have a modified experience for viewers using ad blockers

Wikia is not accessible if you've made further modifications. Remove the custom ad blocker rule(s) and the page will load as expected.