Ad blocker interference detected!
Wikia is a free-to-use site that makes money from advertising. We have a modified experience for viewers using ad blockers

Wikia is not accessible if you've made further modifications. Remove the custom ad blocker rule(s) and the page will load as expected.
Assessment | Biopsychology | Comparative | Cognitive | Developmental | Language | Individual differences | Personality | Philosophy | Social |
Methods | Statistics | Clinical | Educational | Industrial | Professional items | World psychology |
Biological: Behavioural genetics · Evolutionary psychology · Neuroanatomy · Neurochemistry · Neuroendocrinology · Neuroscience · Psychoneuroimmunology · Physiological Psychology · Psychopharmacology (Index, Outline)
---

Diethylcathinone, also called Diethylpropion, is a sympathomimetic stimulant drug marketed as an appetite suppressant. It is sold under the brand name Tenuate or Tenuate Dospan, and may also be known as Amfepramone. The popular antidepressant, Wellbutrin (bupropion) is an analogue of this chemical. Both diethylpropion and bupropion have a stimulant effect on the CNS.
Pharmacology
Edit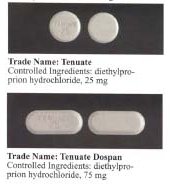 Its mechanism of action is similar to other appetite suppressants such as sibutramine, phentermine and dextroamphetamine. Chemically, it is the N,N-diethyl analog of cathinone and dimethylcathinone. Diethylpropion is manufactured in 25 mg tablets and 75 mg controlled-release tablets (Tenuate®, Tepanil Ten-Tab®). Diethylpropion is classified as a Schedule IV controlled substance in the United States.
It is also used in the treatment of migraine (off-label).
Hypersensitivity to sympathomimetic amines
Advanced arteriosclerosis or symptomatic cardiovascular disease
Moderate or severe hypertension
Hyperthyroidism
History of drug abuse
MAO inhibitor use (within 14 days)
===Severe:
=
Pulmonary hypertension
Stroke
Psychosis
Tachycardia, hypertension, arrhythmia, chest pain
Xerostomia, metallic taste
Changes in libido, gynecomastia, menstrual irregularities
Eye:
Nausea/vomiting, constipation, abdominal cramps
Bone marrow depression, agranulocytosis, leukopenia
Euphoria, agitation, nervousness, restlessness, dizziness, anxiety, headache, mental depression, seizures
Skin:
Rash, hives, alopecia, ecchymosis
Urogenital and reproductive:
Changes in libido, impotence
References
Edit