Assessment | Biopsychology | Comparative | Cognitive | Developmental | Language | Individual differences | Personality | Philosophy | Social |
Methods | Statistics | Clinical | Educational | Industrial | Professional items | World psychology |
Philosophy Index: Aesthetics · Epistemology · Ethics · Logic · Metaphysics · Consciousness · Philosophy of Language · Philosophy of Mind · Philosophy of Science · Social and Political philosophy · Philosophies · Philosophers · List of lists
---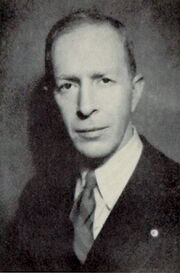 Alexandre Koyré (29 August 1892, Taganrog - April 28, 1964, Paris) was a French philosopher of Russian origin who wrote on history and the philosophy of science.
Koyré was born in the city of Taganrog in a Russian family of Jewish origin.
In Göttingen, Germany he studied under Edmund Husserl and David Hilbert.Husserl did not approve of Koyré's dissertation, whereupon Koyré left for Paris. After Husserl's Cartesian Meditations, a series of lectures given in Paris and one of the more important of Husserl's later works, Koyré met with him repeatedly and influenced his understanding of Galileo Galilei.
In Paris Koyré became a colleague of Alexandre Kojève, and taught at the Ecole Pratique des Hautes Etudes who eventually replaced him when lecturing on Hegel. Though best known as a philosopher of science, Koyré started out as a historian of religion. Much of his originality for the period rests on his ability to ground his studies of modern science on the history of religion and metaphysics.
Koyré focused on Galileo Galilei, Plato, and Isaac Newton. His most famous work is From the Closed World to the Infinite Universe, a series of lectures given at The Johns Hopkins University in 1959 on the rise of early modern science and the change of scientists' perception of the world during the period from Nicholas of Cusa and Giordano Bruno through [Isaac Newton. Though the book has been widely heralded, it was a summation of Koyré's perspective rather than an original new work.
Koyré was suspicious of scientists' claims to be proving natural or fundamental truths through their experiments. He argued these experiments were based on complicated premises, and that they tended to prove the outlook of these premises, rather than any real truth. He repeatedly criticized Galileo's experiments, claiming that some of these experiments could not have taken place and brought into question the results Galileo claimed and modern historians of science had heretofore accepted.
Koyré influenced major European and American philosophers of science, most famously Thomas Kuhn and Paul Feyerabend.
Writings (selection)
Edit
La Philosophie de Jacob Boehme, Paris, J. Vrin, 1929.
Études galiléennes, Paris: Hermann, 1939
From the Closed World to the Infinite Universe, New York: Harper, 1958
La Révolution astronomique: Copernic, Kepler, Borelli, Paris: Hermann, 1961
Introduction à la lecture de Platon, Paris: Gallimard 1994
Bibliography
Edit
Jean-François Stoffel, Bibliographie d'Alexandre Koyré, Firenze : L.S. Olschki, 2000.
External links
Edit
---
Ad blocker interference detected!
Wikia is a free-to-use site that makes money from advertising. We have a modified experience for viewers using ad blockers

Wikia is not accessible if you've made further modifications. Remove the custom ad blocker rule(s) and the page will load as expected.