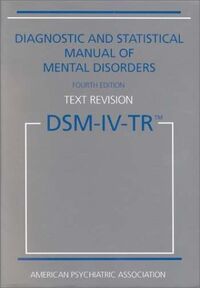 Diagnostic and Statistical Manual of Mental Disorders, 4th. Edition, otherwise known as DSM-IV is a manual published by the American Psychiatric Association and includes all currently recognized mental health disorders.
Codes by Alphabetical listing | Codes by Category
NOS = Not Otherwise Specified.
Neglect of Child
V71.09 No Diagnosis on Axis II
V71.09 No Diagnosis or Condition on Axis I
V15.81 Noncompliance With Treatment
Important Note:
DSM-IV-TR codes are
not
the same as those of the
ICD-9
. While there is significant overlap and similarity between the two coding standards, the two are
not
identical. (See the FAQ for the DSM at the
DSM-IV-TR Official Site
[1]
.) Clicking on the external links in the list provided on this page does
not
lead to a description of the corresponding DSM-IV-TR code; it leads to an external website's description of the ICD codes.
Reference
Edit
External links
Edit
Ad blocker interference detected!
Wikia is a free-to-use site that makes money from advertising. We have a modified experience for viewers using ad blockers

Wikia is not accessible if you've made further modifications. Remove the custom ad blocker rule(s) and the page will load as expected.