Ad blocker interference detected!
Wikia is a free-to-use site that makes money from advertising. We have a modified experience for viewers using ad blockers

Wikia is not accessible if you've made further modifications. Remove the custom ad blocker rule(s) and the page will load as expected.
Assessment | Biopsychology | Comparative | Cognitive | Developmental | Language | Individual differences | Personality | Philosophy | Social |
Methods | Statistics | Clinical | Educational | Industrial | Professional items | World psychology |
Biological: Behavioural genetics · Evolutionary psychology · Neuroanatomy · Neurochemistry · Neuroendocrinology · Neuroscience · Psychoneuroimmunology · Physiological Psychology · Psychopharmacology (Index, Outline)
---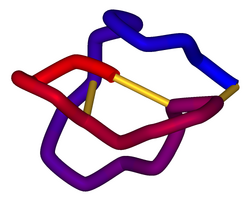 A conotoxin is one of a group of neurotoxic peptides isolated from the venom of the marine cone snail.
Conotoxins, which are peptides consisting of 10 to 30 amino acid residues, typically have some disulfide bonds. Conotoxins have a variety of activities, most of which have not been explained closely yet.
The number of conotoxins whose activities have been determined so far is five, and they are called the α(alpha)-, δ(delta)-, κ(kappa)-, μ(mu)-, and ω- types. Each of the five types of conotoxins attacks a different target:
External links
Edit
ja:コノトキシン