Assessment | Biopsychology | Comparative | Cognitive | Developmental | Language | Individual differences | Personality | Philosophy | Social |
Methods | Statistics | Clinical | Educational | Industrial | Professional items | World psychology |
Biological: Behavioural genetics · Evolutionary psychology · Neuroanatomy · Neurochemistry · Neuroendocrinology · Neuroscience · Psychoneuroimmunology · Physiological Psychology · Psychopharmacology (Index, Outline)
---
Nerve: Cervical plexus

Dermatome distribution of the trigeminal nerve (Superficial cervical plexus visible in purple, at center bottom.)
[[Image:|250px|center|]]
Latin
plexus cervicalis
Gray's
subject #210 925
Innervates
From
C1-C4
To
MeSH
[1]
The cervical plexus is a plexus of the ventral rami of the first four cervical spinal nerves which are located from C1 to C4 cervical segment in the neck. They are located laterally to the transverse processes between prevertebral muscles from the medial side and vertebral (m.scalenus, m.levator scapulae, m.splenius cervicis) from lateral side. Here there is anastomosis with accessory nerve, hypoglossal nerve and sympathetic trunk.
It is located in the neck, deep to sternocleidomastoid. Nerves formed from the cervical plexus innervate the back of the head, as well as some neck muscles. The branches of the cervical plexus emerge from the posterior triangle at the nerve point, a point which lies midway on the posterior border of the Sternocleidomastoid.
Has three types of branches: cutaneous, muscular, and mixed.
Cutaneous (4 branches):
Muscular
Mixed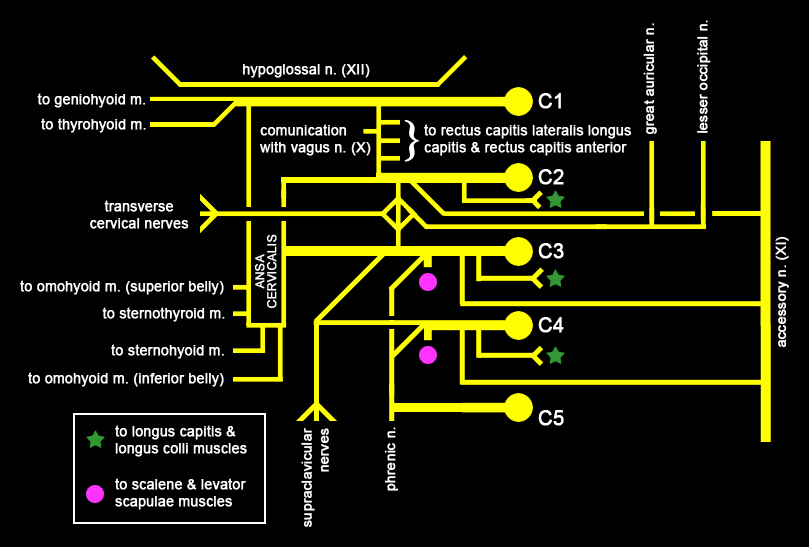 Additional images
Edit
External links
Edit
Memorial University of Newfoundland - Anatomy at MUN nerve/cerplex
Nerves: spinal nerves

Cervical (8)

anterior (Cervical plexus, Brachial plexus) - posterior (Posterior branches of cervical nerves, Suboccipital, Greater occipital, Third occipital)


Thoracic (12)

anterior (Intercostal, Intercostobrachial - T2, Thoraco-abdominal nerves - T7-T11, Subcostal - T12) - posterior (Posterior branches of thoracic nerves)


Lumbar (5)

anterior (Lumbar plexus, Lumbosacral trunk) - posterior (Posterior branches of the lumbar nerves, Superior cluneal L1-L3)


Sacral (5)

anterior (Sacral plexus) - posterior (Posterior branches of sacral nerves, Medial cluneal nerves)


Coccygeal (1)

anterior (Coccygeal plexus) - posterior (Posterior branch of coccygeal nerve)
Ad blocker interference detected!
Wikia is a free-to-use site that makes money from advertising. We have a modified experience for viewers using ad blockers

Wikia is not accessible if you've made further modifications. Remove the custom ad blocker rule(s) and the page will load as expected.