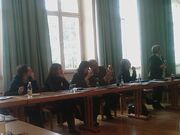 The Center for Qualitative Psychology was created at the University of Tübingen by the department of educational psychology in October 1999 to support the Qualitative research in psychology and other social sciences as education, sociology, philosophy, medicine, ethnography, politics,etc.
Purpose
The Center for Qualitative Psychology is a non-profit association that promote an international perspective network in social sciences and especially in psychology. Researchers from related fields as education, sociology, philosophy, medicine, ethnography, politics, etc. meet in this centre to support all kind of scientific methodologies combining epistemological perspectives, strategies, and instruments.
Annual meetings
Every year, the centre organizes a workshop about a specific topic and in a different place:
2000: Qualitative Research in Psychology, in Blaubeuren, Germany.
2001: The role of the researcher in qualitative psychology, in Blaubeuren, Germany.
2002: Research Questions and Matching Methods of Analysis, in Perlora, Spain.
2003: Research Design, in Blaubeuren, Germany.
2004: Questions on generalization, Austria.
2006: Qualitative and Quantitative Approaches to Learning and Instruction, Riga, Latvia.
2008: Importance of qualitative approaches in psychology, in Erkner/Berlin, Germany.
2009: Epistemology and epistemological approaches, in Oulu, Finland.
2010: The values in qualitative research, in Sassari, Italy.
2011: Qualitative Research in Attention to Diversity, in Heidelberg, Germany.
2012: XIII Workshop has got the topic "Building bridges", from March 11th until 14th 2012 in Israel at the Achva Academic College of Education.
Publications
The centre publishes proceedings with the main contributions presented at the annual meeting. All published workshop are available at the PsyDok (Volltextserver der Virtuellen Fachbibliothek Psychologie)[1].
See also
References
Lyons, E. & Coyle, A. (2007) Analysing qualitative data in psychology. London: Sage.
Richardson, J. T. E. (1996, Ed.) Handbook of qualitative research methods for psychology and the social sciences. Oxford: Blackwell.
Smith, J. A. (2008) Qualitative Psychology: A Practical Guide to Research Methods. London: Sage.
External links