Assessment | Biopsychology | Comparative | Cognitive | Developmental | Language | Individual differences | Personality | Philosophy | Social |
Methods | Statistics | Clinical | Educational | Industrial | Professional items | World psychology |
Cognitive Psychology: Attention · Decision making · Learning · Judgement · Memory · Motivation · Perception · Reasoning · Thinking  - Cognitive processes Cognition - Outline Index
---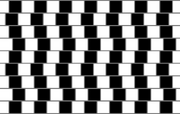 The café wall illusion is an optical illusion, first described by Doctor Richard Gregory. He observed this curious effect in the tiles of the wall of a café at the bottom of St Michael's Hill, Bristol.
This optical illusion makes the parallel straight horizontal lines appear to be bent.
To construct the illusion, alternating light and dark "bricks" are laid in staggered rows. It is essential for the illusion that each "brick" is surrounded by a layer of "mortar" (the grey in the image). This should ideally be of a colour in between the dark and light colour of the "bricks".
References
Edit
External links
Edit
fr:Illusion du mur du café
he: אשליית הקירות העקומים
Ad blocker interference detected!
Wikia is a free-to-use site that makes money from advertising. We have a modified experience for viewers using ad blockers

Wikia is not accessible if you've made further modifications. Remove the custom ad blocker rule(s) and the page will load as expected.