Ad blocker interference detected!
Wikia is a free-to-use site that makes money from advertising. We have a modified experience for viewers using ad blockers

Wikia is not accessible if you've made further modifications. Remove the custom ad blocker rule(s) and the page will load as expected.
Assessment | Biopsychology | Comparative | Cognitive | Developmental | Language | Individual differences | Personality | Philosophy | Social |
Methods | Statistics | Clinical | Educational | Industrial | Professional items | World psychology |
Biological: Behavioural genetics · Evolutionary psychology · Neuroanatomy · Neurochemistry · Neuroendocrinology · Neuroscience · Psychoneuroimmunology · Physiological Psychology · Psychopharmacology (Index, Outline)
---
Bombesin is a 14 amino acid peptide originally isolated from the skin of a frog. It has two known homologues in mammals called neuromedin B and gastrin releasing peptide. It works on the gastrointestinal tract neuroendocrine hormone and it stimulates gastrin release from G cells. It activates three different G-protein coupled receptors known as BBR1 2 & 3. It also activates these receptors in the brain. Together with cholecystokinin it is the second major source of negative feedback signals that stop eating behaviour.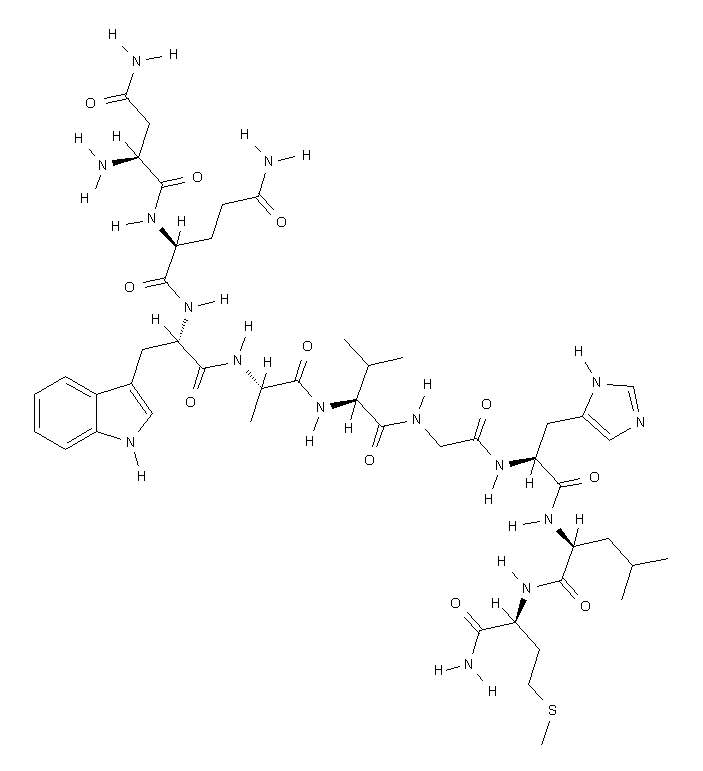 IUPAC Name: (2S)-2-[[(2S)-2-amino-3-carbamoyl-propanoyl]amino]-N-[(1S)-1-[[(1S)-1-[[(1S)-1-[[(1S)-1-[[(1S)-1-[[(1S)-1-carbamoyl-3-methylsulfanyl-propyl]carbamoyl]-3-methyl-butyl]carbamoyl]-2-(3H-imidazol-4-yl)ethyl]carbamoylmethylcarbamoyl]-2-methyl-propyl]carbamoyl]ethyl]carbamoyl]-2-(1H-indol-3-yl)ethyl]pentanediamide
de:Bombesin