Assessment | Biopsychology | Comparative | Cognitive | Developmental | Language | Individual differences | Personality | Philosophy | Social |
Methods | Statistics | Clinical | Educational | Industrial | Professional items | World psychology |
Biological: Behavioural genetics · Evolutionary psychology · Neuroanatomy · Neurochemistry · Neuroendocrinology · Neuroscience · Psychoneuroimmunology · Physiological Psychology · Psychopharmacology (Index, Outline)
---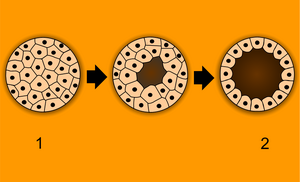 The blastula is an early stage of embryonic development in animals. It is produced by cleavage of a fertilized ovum and consisting of a spherical layer of cells surrounding a fluid-filled cavity. The blastula follows the morula and precedes the gastrula in the development sequence. A blastula has around 128 cells, with a large central cavity called the blastocoel. Also called blastosphere. A whitefish blastula is often used to help study the processes of mitosis in animal cells.The bastula is prevented from multiplying during the nuclearinjection stage.
de:Blastula
es:Blástulapt:Blástula lt:Blastulė sr:бластула
Ad blocker interference detected!
Wikia is a free-to-use site that makes money from advertising. We have a modified experience for viewers using ad blockers

Wikia is not accessible if you've made further modifications. Remove the custom ad blocker rule(s) and the page will load as expected.