Assessment | Biopsychology | Comparative | Cognitive | Developmental | Language | Individual differences | Personality | Philosophy | Social |
Methods | Statistics | Clinical | Educational | Industrial | Professional items | World psychology |
Clinical: Approaches · Group therapy · Techniques · Types of problem · Areas of specialism · Taxonomies · Therapeutic issues · Modes of delivery · Model translation project · Personal experiences ·
---
Balneotherapy (from Latin: balneum, "bath") is the treatment of disease by bathing, usually practiced at spas.[1] While it is considered distinct from hydrotherapy,[2] there are some overlaps in practice and in underlying principles. Balneotherapy may involve hot or cold water, massage through moving water, relaxation or stimulation. Many mineral waters at spas are rich in particular minerals (silica, sulfur, selenium, radium) which can be absorbed through the skin. Medicinal clays are also widely used, which practice is known as 'fangotherapy'.
While the treatments have been mainly recommended for physical disorders they have been prescribed as a treatment for mental disorders[citation needed]
Definition and characteristics
Edit
The term "balneotherapy" is generally applied to everything relating to spa treatment, including the drinking of waters and the use of hot baths and natural vapor baths, as well as of the various kinds of mud and sand used for hot applications. Balneotherapy refers to the medical use of these spas, as opposed to recreational use. Common minerals found in spa waters are sodium, magnesium, calcium and iron, as well as arsenic, lithium, potassium, manganese, bromine, and iodine. All these may be contained in the peat that is commonly used in preparation of spa waters. Resorts may also add minerals or essential oils to naturally-occurring hot springs. Though balneotherapy commonly refers to mineral baths, the term may also apply to water treatments using regular hot or cold tap water.
Mud-baths are also included in balneotherapy, and the dirt and water used to mix mud baths may also contain minerals which are thought to have beneficial properties.
Treatment of diseases
Edit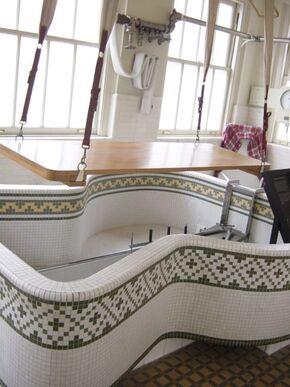 Balneotherapy may be recommended for wide range of illnesses, including arthritis,[3] skin conditions and fibromyalgia.[4] As with any medical treatment, balneotherapy should be discussed with a physician before beginning treatment, since a number of conditions, like heart disease and pregnancy, can result in a serious adverse reaction.
Scientific studies into the effectiveness of balneotherapy tend to be neutral or positive, finding that balneotherapy provides no effect or a placebo effect, or that there is a positive effect. However, many of these studies suffer from methodological flaws, and so may not be entirely reliable.[5][6] A 2009 review of all published clinical evidence concluded that, while available data suggest that balneotherapy may be truly associated with improvement in several rheumatological diseases, existing research is not sufficiently strong to draw firm conclusions.[7]
Notable spas
Edit
References
Edit
↑ (2007) "Definition of balneo therapy" Angus Stevenson Shorter Oxford English Dictionary, 6th, Oxford: Oxford University Press.
↑ "Balneotherapeutics" The Encyclopaedia Britannica (1911), 284–285 (300–301 in electronic page field). URL accessed 2011-07-16.
↑ Sukenik S (1999). Balneotherapy at the Dead Sea area for knee osteoarthritis. IMAJ 1 (2): 83–85.
↑ Deniz Evcik (June 2002). The effects of balneotherapy on fibromyalgia patients. Rheumatology International 22 (2): 56–59.
↑ Verhagen AP (January 2004). Balneotherapy for rheumatoid arthritis and osteoarthritis.. Cochrane Database of Systematic Reviews (2): CD000518.
↑ Verhagen AP (October 1997). Taking baths: the efficacy of balneotherapy in patients with arthritis. A systematic review. J Rheumatol 24 (10): 1964–71.
↑ Falagas ME et al. (2009). The therapeutic effect of balneotherapy: Evaluation of the evidence from randomized controlled trials. International Journal of Clinical Practice 63 (7): 1068–84.
Bibliography
Edit
Ad blocker interference detected!
Wikia is a free-to-use site that makes money from advertising. We have a modified experience for viewers using ad blockers

Wikia is not accessible if you've made further modifications. Remove the custom ad blocker rule(s) and the page will load as expected.