Ad blocker interference detected!
Wikia is a free-to-use site that makes money from advertising. We have a modified experience for viewers using ad blockers

Wikia is not accessible if you've made further modifications. Remove the custom ad blocker rule(s) and the page will load as expected.
Assessment | Biopsychology | Comparative | Cognitive | Developmental | Language | Individual differences | Personality | Philosophy | Social |
Methods | Statistics | Clinical | Educational | Industrial | Professional items | World psychology |
Biological: Behavioural genetics · Evolutionary psychology · Neuroanatomy · Neurochemistry · Neuroendocrinology · Neuroscience · Psychoneuroimmunology · Physiological Psychology · Psychopharmacology (Index, Outline)
---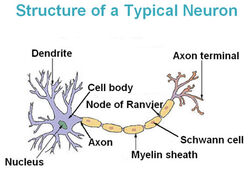 The Axon Hillock is the anatomical part of a neuron that connects the cell body called soma (biology) to the axon. It is attributed as the place where Inhibitory Postsynaptic Potentials (IPSPs) and Excitatory Postsynaptic Potentials (EPSPs) from numerous synaptic inputs on the dendrites or cell body accumulate.
It is electrophysiologically equivalent to the 'initial segment where the summated membrane potential reaches the triggering threshold, an action potential propagates through the rest of the axon (and "backwards" towards the dendrites as seen in backpropagation). The triggering is due to positive feedback between highly crowded voltage gated sodium channels, which are present at the critical density at the axon hillock (and nodes of ranvier) but not in the soma.
Cell biologically it is the neuronal equivalent of tight junction as it acts as a barrier for lateral diffusion of transmembrane proteins (and GPI anchored proteins like thy1 across it[1].)
External links
Edit
Histology: nervous tissue

Neurons (gray matter)

soma, axon (axon hillock, axoplasm, axolemma, neurofibril/neurofilament), dendrite (Nissl body, dendritic spine, apical dendrite, basal dendrite)
types (bipolar, pseudounipolar, multipolar, pyramidal, Purkinje, granule)


Afferent nerve/Sensory nerve/Sensory neuron

GSA, GVA, SSA, SVA, fibers (Ia, Ib or Golgi, II or Aβ, III or Aδ or fast pain, IV or C or slow pain)


Efferent nerve/Motor nerve/Motor neuron

GSE, GVE, SVE, Upper motor neuron, Lower motor neuron (α motorneuron, γ motorneuron)


Synapses

neuropil, synaptic vesicle, neuromuscular junction, electrical synapse - Interneuron (Renshaw)


Sensory receptors

Free nerve ending, Meissner's corpuscle, Merkel nerve ending, Muscle spindle, Pacinian corpuscle, Ruffini ending, Olfactory receptor neuron, Photoreceptor cell, Hair cell, Taste bud


Glial cells

astrocyte, oligodendrocyte, ependymal cells, microglia, radial glia


Myelination (white matter)

Schwann cell, oligodendrocyte, nodes of Ranvier, internode, Schmidt-Lanterman incisures, neurolemma


Related connective tissues

epineurium, perineurium, endoneurium, nerve fascicle, meninges