Ad blocker interference detected!
Wikia is a free-to-use site that makes money from advertising. We have a modified experience for viewers using ad blockers

Wikia is not accessible if you've made further modifications. Remove the custom ad blocker rule(s) and the page will load as expected.
Assessment | Biopsychology | Comparative | Cognitive | Developmental | Language | Individual differences | Personality | Philosophy | Social |
Methods | Statistics | Clinical | Educational | Industrial | Professional items | World psychology |
Biological: Behavioural genetics · Evolutionary psychology · Neuroanatomy · Neurochemistry · Neuroendocrinology · Neuroscience · Psychoneuroimmunology · Physiological Psychology · Psychopharmacology (Index, Outline)
---
Amyloid beta
(Aβ or Abeta) is a
protein
fragment of 39-42
amino acids
that is the main constituent of
amyloid
plaques in various
neurological
disorders, most prominently
Alzheimer's disease
.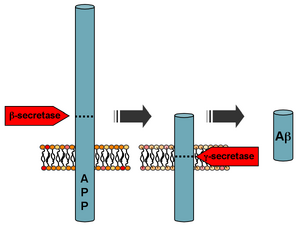 Aβ is formed after sequential cleavage of the amyloid precursor protein (APP) by the β- and γ-secretases. APP is a transmembrane glycoprotein. Disregulation of APP metabolism — increasing either total Aβ levels or the relative concentration of the 42-amino acid form — seems to cause hereditary, early-onset Alzheimer's and is thought by many researchers to be involved in the etiology of the late-onset form.
External link
Edit
fi:Beta-amyloidi