Adoption by same-sex couples refers to the adoption of children by gay or lesbian couples.
Controversy
Edit
There is significant controversy surrounding adoption by same-sex couples. Together, the issues of same-sex marriage and adoption by same-sex couples comprise a major part of the ongoing culture war pertaining to lesbian and gay rights. The controversy generally concerns whether or not there will be negative consequences for children raised by same-sex couples. Specific questions include the potential for gender confusion, biased sexual orientation, or the general well-being of such children. For a brief survey of related arguments and sociological studies, see the main article.
Legal status around the world
Edit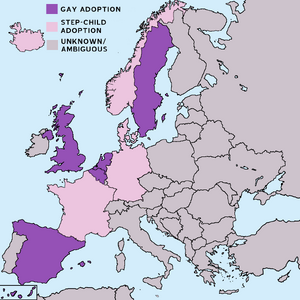 Adoption by same-sex couples is legal in Guam, Andorra, Belgium, Canada, United Kingdom, Iceland, the Netherlands, Sweden, South Africa, and Spain. Denmark, Germany and Norway allow "stepchild-adoption" so that the partner in a civil union can adopt the natural (or sometimes even adopted) child of his partner. In the Republic of Ireland and some other countries, individual persons, whether heterosexual/homosexual, cohabiting/single may apply for adoption.
In February 2006, France's Court of Cassation ruled that both partners in a same-sex relationship can have parental rights over one partner's biological child. The result came from a case where a woman tried to give parental rights of her two daughters to her partner whom she was in a civil union with.[1]
On June 2, 2006 the Icelandic Parliament voted for a proposal accepting adoption, parenting and assisted insemination treatment for same-sex couples on the same basis as heterosexual couples. No member of the parliament voted against the proposal. The law went into effect on June 27, 2006.
Within the U.S., California, Massachusetts, New Jersey, New Mexico, New York, Ohio, Vermont, Washington state, Wisconsin, and Washington, D.C. allow adoption by same-sex couples. [2] [3] Florida is the only state that completely prohibits adoption by same-sex couples. Mississippi, Oklahoma, Colorado and Utah all make adoption by same-sex couples virtually impossible by only allowing married couples to adopt. Critics of such restrictive policies also point out that in many of the states that have bans on adoption by same-sex couples, these same couples are still able to act as foster parents.
In Canada, adoption is within provincial/territorial jurisdiction, and thus the law differs from one province or territory to another. Adoption by same-sex couples is legal in British Columbia, Manitoba, Newfoundland and Labrador, Nova Scotia, Ontario, Quebec, Saskatchewan, and the Northwest Territories. In Alberta, stepchild adoption is allowed. Adoption by same-sex couples is illegal in New Brunswick, Prince Edward Island, and Nunavut. In the Yukon, the law regarding adoption is ambiguous. NDP MP Libby Davies, who is in a same-sex relationship, has campaigned for national uniformity when it comes to same-sex adoption.
In Australia, same-sex adoption is legal in the Australian Capital Territory and Western Australia, while stepchild adoption is possible in Tasmania.
In New Zealand, preliminary New Zealand Law Commission Reports and white papers have raised the issue already, while Metiria Turei, a Green Party of New Zealand List MP raised the issue in late May 2006. In February 2005, the Greens had suggested that an adoption law reform clause should be added to the Relationships (Statutory References) Act 2005, which equalised heterosexual, lesbian and gay spousal status in New Zealand law and regulatory policy, apart from the Adoption Act 1955. While the measure was unsuccessful, it remains to be seen whether a reintroduced adoption law reform bill on its own would fare differently. [4]
A January 2005 ruling of the Israeli Supreme Court allowed step-child adoptions for same-sex couples. Israel previously allowed limited co-guardianship rights for non-biological parents.[5]
Bibliography
Edit
New Zealand Law Commission: Adoption- Options for Reform: Wellington: New Zealand Law Commission Preliminary Paper No 38: 1999: ISBN 1-877187-44-5
External links
Edit
Ad blocker interference detected!
Wikia is a free-to-use site that makes money from advertising. We have a modified experience for viewers using ad blockers

Wikia is not accessible if you've made further modifications. Remove the custom ad blocker rule(s) and the page will load as expected.