Ad blocker interference detected!
Wikia is a free-to-use site that makes money from advertising. We have a modified experience for viewers using ad blockers

Wikia is not accessible if you've made further modifications. Remove the custom ad blocker rule(s) and the page will load as expected.
Assessment | Biopsychology | Comparative | Cognitive | Developmental | Language | Individual differences | Personality | Philosophy | Social |
Methods | Statistics | Clinical | Educational | Industrial | Professional items | World psychology |
Biological: Behavioural genetics · Evolutionary psychology · Neuroanatomy · Neurochemistry · Neuroendocrinology · Neuroscience · Psychoneuroimmunology · Physiological Psychology · Psychopharmacology (Index, Outline)
---

In anatomy, the abdominal wall represents the boundaries of the abdominal cavity.
The abdominal wall is split into the:
Anterior (front) wall. This is the part of the gastric wall that faces the peritoneal cavity.
Lateral (sides) wall
Posterior (back) wall
There is a common set of layers covering and forming all the walls: the deepest being the extraperitoneal fat, the parietal peritoneum, and a layer of fascia, which has different names according to what it covers (e.g., transversalis, psoas fascia).
Layers of anterior abdominal wall
Edit
In human anatomy, the layers of the abdominal wall are (from superficial to deep):
Inner surface
Edit
The surface contains several ligaments separated by fossae:
Muscles of the abdominal wall
Edit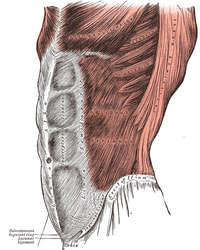 In medical vernacular, the abdominal wall most commonly refers to the layers composing the anterior abdominal wall which, in addition to the layers mentioned above, includes the three layers of muscle: the transversus abdominis (transverse abdominal muscle), the internal (obliquus internus) and the external oblique (obliquus externus).
| | |
| --- | --- |
| Muscle | Origin and insertion |
| The obliquus externus (external oblique) muscle is the outermost muscle covering the side of the abdomen. It is broad, flat, and irregularly quadrilateral. | It originates on the lower eight ribs, and then curves down and forward towards its insertion on the outer anterior crest of the ilium and (via the sheath of the rectus abdominis muscle) the midline linea alba. |
| The obliquus internus (internal oblique) muscle is triangularly shaped and is smaller and thinner than the external oblique muscle that overlies it. | It originates from Poupart's ligament/inguinal ligament and the inner anterior crest of the ilium. The lower two-thirds of it insert, in common with fibers of the external oblique and the underlying transversus abdominis, into the linea alba. The upper third inserts into the lower six ribs. |
| The transversus abdominis muscle is flat and triangular, with its fibers running horizontally. It lies between the internal oblique and the underlying transversalis fascia. | It originates from Poupart's ligament, the inner lip of the ilium, the lumbar fascia and the inner surface of the cartilages of the six lower ribs. It inserts into the linea alba behind the rectus abdominis. |
| The rectus abdominis muscles are long and flat. The muscle is crossed by three tendinous intersections called the linae transversae. The rectus abdominis is enclosed in a thick sheath formed, as described above, by fibers from each of the three muscles of the lateral abdominal wall. | They originate at the pubic bone, run up the abdomen on either side of the linea alba, and insert into the cartilages of the fifth, sixth, and seventh ribs. |
| The pyramidalis muscle is small and triangular. It is located in the lower abdomen in front of the rectus abdominis. | It originates at the pubic bone and is inserted into the linea alba half way up to the umbilicus (belly button). |
Layers of anterior abdominal wall
Edit
In human anatomy, the layers of the abdominal wall are (from superficial to deep):
Fascia
Deep fascia or subserous fascia
Inner surface
Edit
The surface contains several ligaments separated by fossae:
References
Edit
External links
Edit